Oh my goodness you guys, it has been crazy. We started out with an impromptu project that took longer than it should have, then we decided to take on a major room redo, showered a little with illness… and voila, it's been like 3 weeks since I've posted.
Well, I wanted to tell you a little about the projects we've been doing, and then next time I post I'll have a big studio reveal for you!
Ok, ok… so you remember way back when we first moved into this house (more than a year ago!) and my studio looked like this:
And I scraped the walls and removed trim and caulked and painted to get it looking like this:
You can read all about my studio redo here. Well there's a little back story to this whole situation: Since we moved in and I turned that room into a studio, I've been trying to convince The Hubs that really I should have his game room and he should get the studio. The game room is the master bedroom, so it's pretty large and it gets more light. Most importantly though, it's at the very back of the house which means that when the geek squad (said in the most loving way) comes over, they have to tromp past the kids' room after they're asleep. They are really quiet and really good about it, but it's still like walking on eggshells and they shouldn't have to. BUT The Hubs didn't want the studio because he thought it was a lot smaller than the game room.
Mostly because of this:
On the left there- that giant boxy thing that juts out into the room? Yeah, that is where our furnace lives. The previous owners built that wall around it.
Here it is looking a lot nicer after I painted it:
It was also kind of a dark little room because the light that was in there wasn't centered in the room and was just sort of dim. The only natural light came from the windows in the door.
So one day while I was at Goodwill, I found a pendant light for 99c!!! I got it and we replaced that monstrosity of a light, and because it's a pendant, we swung it over to the mostly center… and voila! we had light. So that was step one. Sorry, I don't have a picture of that.
Then our furnace went out.
Actually, our furnace went out last March. We knew it, but we didn't need it for the warmer months, and when it got colder we found that the furnace would pretty much have to be replaced, so we got a pellet stove instead. Love the pellet stove. Sorry, no pic of that either.

So that's when this whole ordeal started. First, our tax return came and we called someone to come take the coolant out of the furnace (that's a legal requirement, before removal). And then The Hubs spent about 3 days taking out the furnace and the wall that was built around it. It was really in there good. We were thinking one day for removal, and it really just went forever.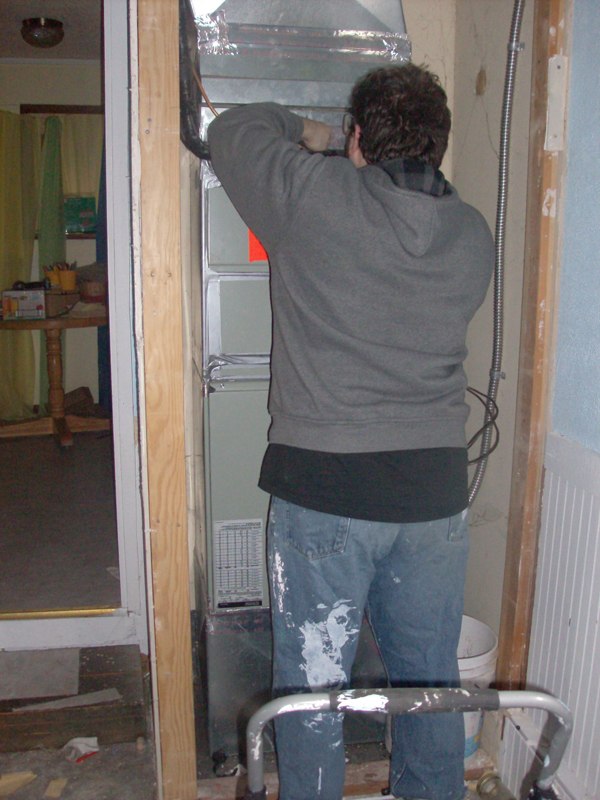 But finally it was GONE and there was just this space! Which I didn't take a picture of, of course.
I built a giant floor to ceiling built in bookcase in the space. It was lovely. More space! This is a picture of the shelf now… it was all nice with art supplies until yesterday….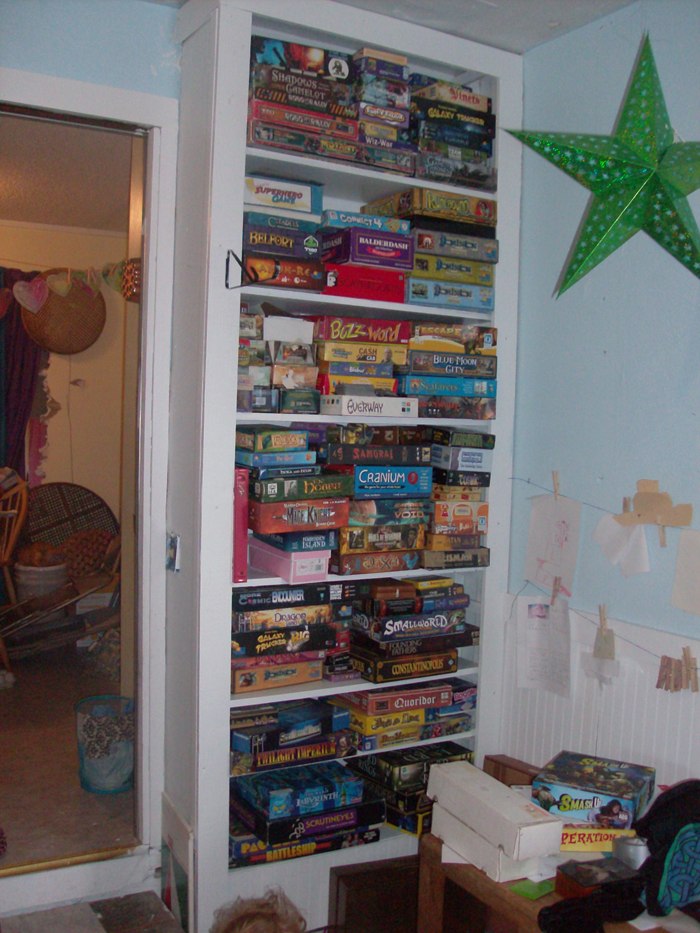 THEN, The Hubs decided he wanted to switch rooms.
Wha!?!?!?! Now?
Ok, it's not like I'm complaining- I've wanted to switch for a long time now… but really? I get the space all how I want it and NOW you'll switch? The main reason is that without that big box in the room, the room is actually the same size as the master bedroom (minus the large closet in the bedroom).
So to recap… I just got my space how I've wanted it for a long long time, when the Hubs decides we should switch rooms.
So then I got to paint. My new studio that is. He had this… really bold kelly-ish green color before. I went with the same blue I had before- mostly because that's the paint color I had. And now! I get to spend the whole day arranging my space. Here's a little teaser… do you see that sunlight coming in the window! The sun! In my studio! THAT is how it's supposed to be!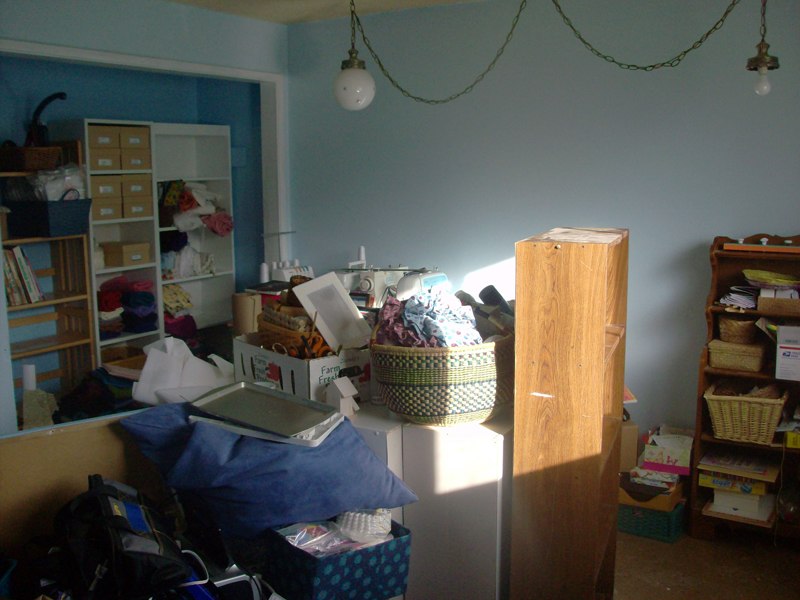 But also check out those lights- I think they're meant to hang on either side of the bed… bow chicka wow wow! Or as my sister-in-law would say "Brown chicken brown cow!" (say it out loud, it works). That is some 70s lighting action! You could make quite the little love den in there.
But I'm not.
Ok, I can't wait to share the big reveal with you! So I better get to work on creating my space. This is my favorite part for sure- I guess it's the Capricorn in me (I read somewhere that Capricorn's like organizing). See you soon!