This is a review I posted over on Herb N Growth- so if you've seen it already I have a question for you at the end. If you didn't follow that blog- then it's all new to to you!!
I've heard about the bread in this book for some time now. Some of my online Diva friends have been making it for a while. I always avoided the threads talking about it though because I thought they were those Amish Friendship Breads or sourdough starters that say that they don't take a lot of daily effort, but really are a pain with the feeding and the kneading and… well anyway…. I finally checked it out and this book is seriously the best thing to happen to bread!
I've been making the bread for a few weeks now and I can't say enough good things about it. I'll review the book, tell you some tips that I've found and then at the end, I'm going to tell you a BIG surprise about the whole thing that will make your secret frugal heart very very happy.
The idea behind Artisan Bread in Five Minutes A Day was thought up by a doctor. John Hertzberg M.D. grew up surrounded by delicious authentic breads and wanted to bake those breads himself instead of purchasing them for the gross amounts of money that they command and without taking so much valuable time to bake them. By experimenting with breadmaking, he figured out which steps were truly necessary and which weren't needed to make delicious breads without all the work and time. What he discovered is a recipe that lets you make up the dough and keep it in the refrigerator for up to 2 weeks with no additional work. Just pull out the dough and make bread whenever the desire hits.
Dr. Hertzberg teamed up with Zoe Francois, a pastry chef and baker, who loved his discovery and expounded on it to make a few more master doughs and lots of delectable recipes in which to use the doughs. Coffee cakes, Bread Pudding, Bagels, rolls, specialty breads and pastries, plus a couple sandwich loaves and the basic artisan loaf are just some of the almost 100 recipes.
The Book: The authors start out with a couple chapters talking about ingredients and equipment and then launch into the basic master recipe. Each chapter contains a basic recipe and then lots of variations to make that basic recipe into something fantastic- like Sunny Side Up Apricot Pastry or Bread Pudding. Mmmm!
The instructions are very clearly written and easy to follow. The authors really have simplified some processes that might have mystified and discouraged would-be bakers in the past. Anyone can make gorgeous and delicious breads and not take up their whole day making them!
My only complaint with the book is the lack of photos. There is a small section of photos in the center of the book, but virtually none of the finished products on each recipe page. A lot of what makes me want to make a recipe is seeing and being inspired by the finished product.
Some other things I like: The authors have a blog at Artisan Bread In Five.com where they answer pretty much every user comment or question and share lots of other recipes to use with the different dough recipes in the book.
Tips From My Experiences: I highly recommend the purchase of a baking stone. They can be very expensive, but I'd heard that you can use unglazed terra cotta or quarry tiles. Unfortunately, since the book was first published in 2007, unglazed tiles seem to have gone out of style and they are not available hardly anywhere! If you want to try to get some, I highly recommend calling around so you aren't driving around fruitlessly. I ended up buying a baking stone from Bed, Bath and Beyond for $20.
The authors recommend a pizza peel as well, and I did get one and it really does make things easier, but its not necessary.
The one last thing that is kind of required is a storage container for the dough. There are a lot of plastic ones available, but we try not to use plastic, so it was harder to find something. My first thought was to buy an extra bowl for my mixer- one for everyday baking and one for the dough storage in the fridge, but that's pretty spendy and it really wouldn't work for the double batch that I like to make to have lots of dough around. I ended up with an enamelware stockpot from the thrift store. It's the thin bottomed kind that you don't really want to use for anything more than boiling water, but it has a lid and is the right size- and it was the right price!
Perfection is not necessary, which is really great. In fact in the preface, the authors say "If you worry about the bread, it won't taste as good." This sentiment is so true! The bread really doesn't require precision and there are some ideas for troubleshooting in the book. I've been making a lot of baguettes because they take very little resting time, and they definitely don't all look very pretty before going into the oven, but they've all come out looking gorgeous and tasting just lovely.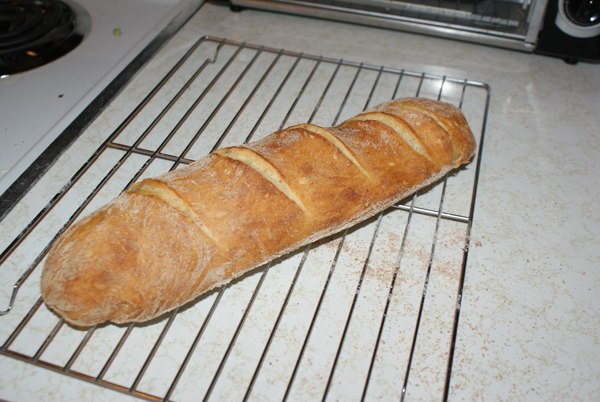 Yep, I made that!
Ok, ok… the super secret that I promised in the beginning…. You're going to love this! The master recipe and a ton of variations are available free online. Seriously? Yep, seriously. I actually read the recipe originally in an article from Mother Earth News and then found the authors' blog, where they share many more variations! I pinned a bunch of the recipes that I plan on using on a regular basis- the breadsticks, soft pretzels and hot dog buns to name a few.
It's so easy to bake with this bread- pull it out of the fridge, rest then bake, if you run out make up some more really quickly, incorporating any leftover dough into your new dough and voila- more dough in the fridge! Sabine and I are mixing up the dough together- I'm training her so that soon she can just make the dough herself!
So, have you tried this bread? What do you think? I turned my sister onto it and she's been making all sorts of her own recipes (like mixing jalapenos and cheese into it for ciabattas). Has it made your bread life easier or at least tastier? I want to hear from you!