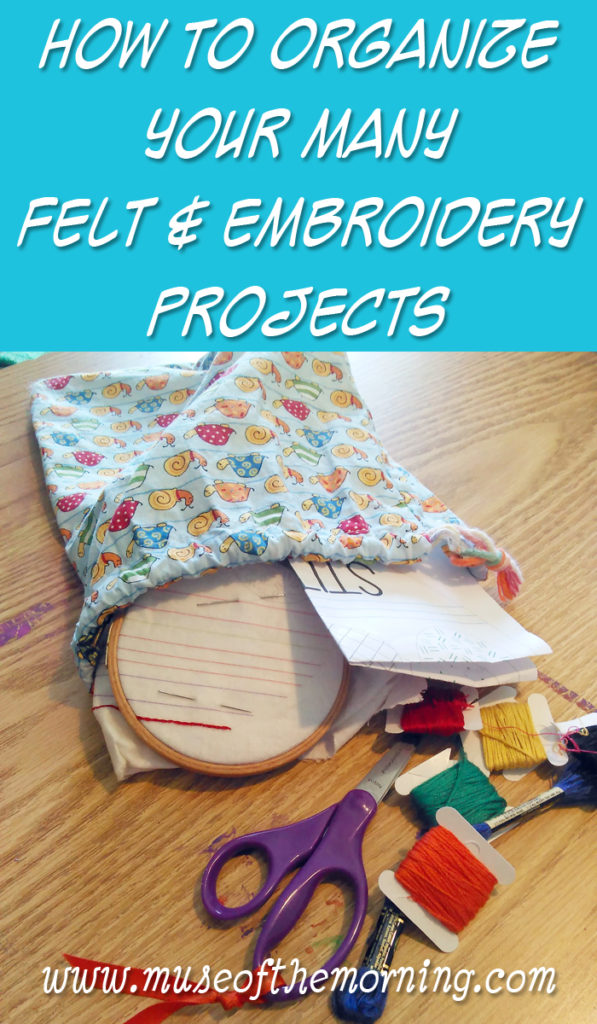 If you're anything like me, you probably have a whole bunch of projects going at one time. How could it be any other way for us creative types?
Well, I've found that when I have so much stuff going on, some sort of organizational method is key to keep track of everything. Mine is, of course, a hodge podge of a bunch of ideas and things from around the house. How else could I keep everything and boho and kitschy?
Back when I was telling you about some of my favorite embroidery supplies, I mentioned that I use my Fifteen Minute Drawstring Bag tutorial for storing my projects.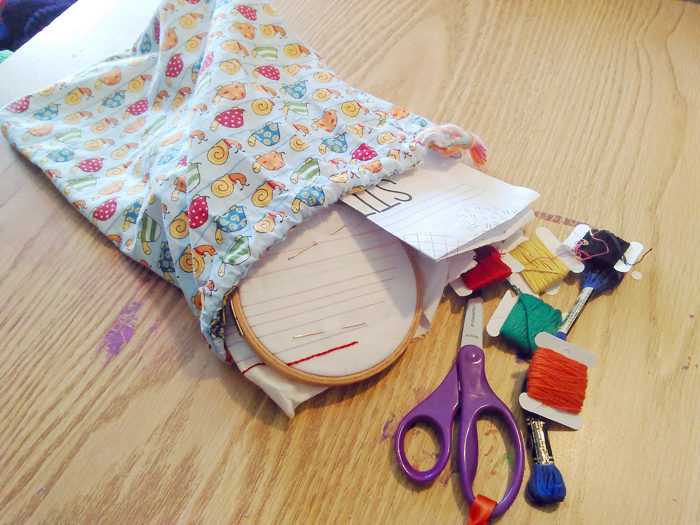 Well, there you go. That's pretty much my system.
Ok. I'm kind of kidding.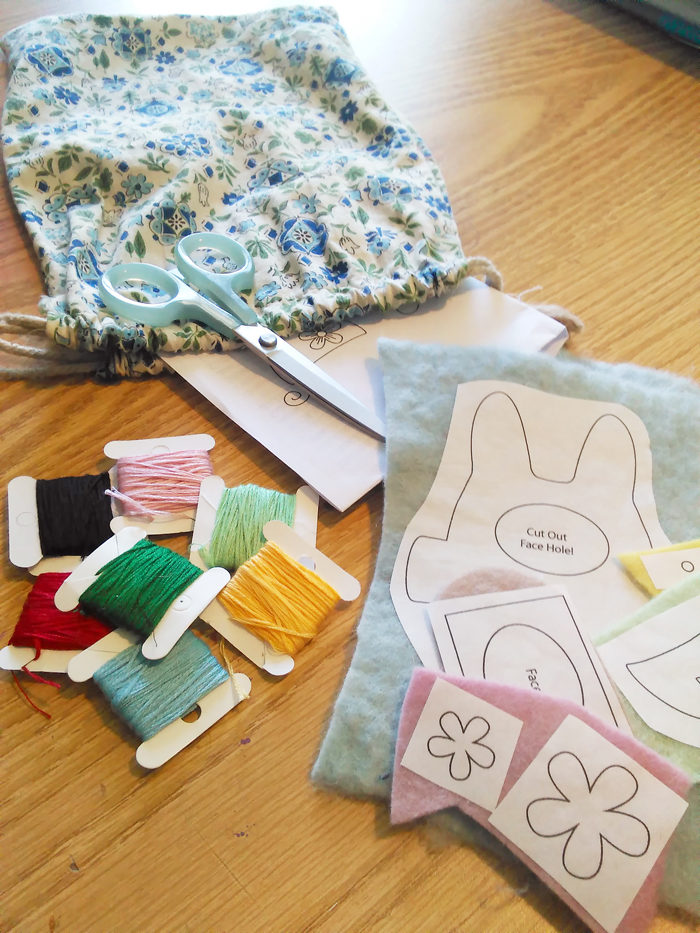 Basically I put all the supplies for one project together in one of the bags. A pair of embroidery scissors, needles, embroidery floss, embroidery hoop if needed- whatever is necessary. I linked to my favorite supplies back on the favorite supplies post. I like to have separate supplies for each project bag so that I can grab it and get to work as quickly as possible.
Sometimes I only get 5 minutes to work on a project- having all those separate supplies in one place shaves precious moments off preparation, so I can get right to work.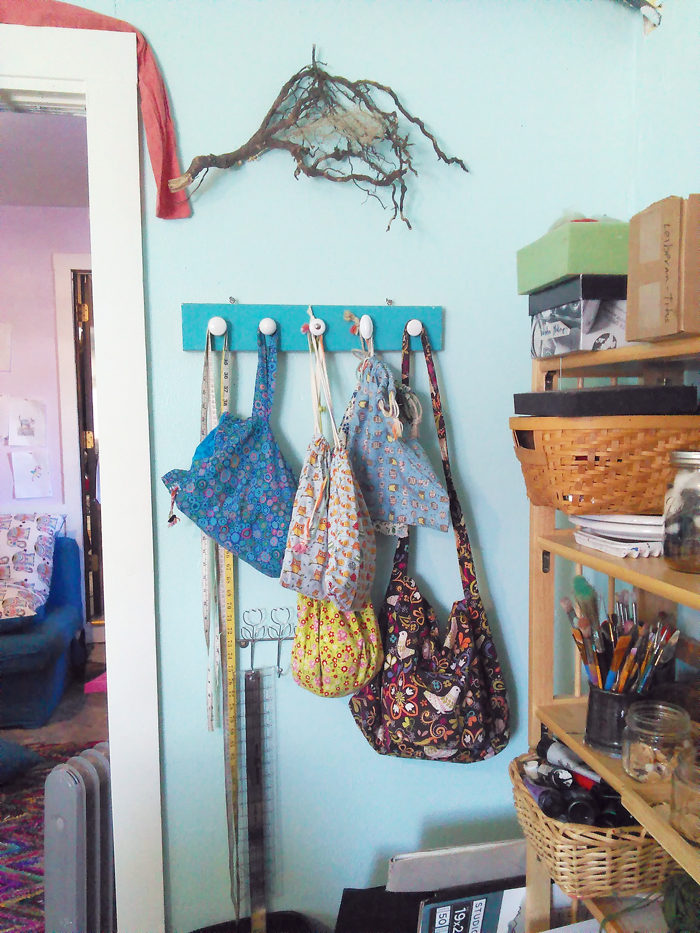 When they're empty, they hang up here on my rack in the studio. With a whole lot of other bags and rulers and whatnot.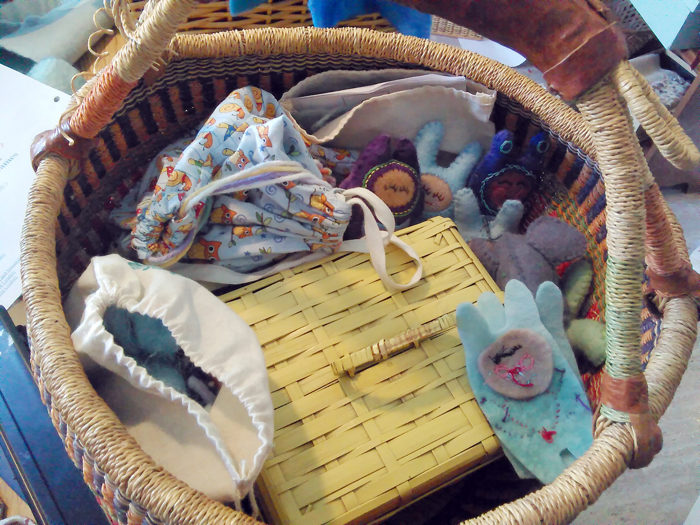 When they're full, they generally go in my project basket. In the basket, I have another basket- the littler yellow one- that has most of my embroidery supplies – and another pair of scissors of course! There's also a bag that I often keep full of stuffing for when I have a felt stuffie that I'm working on. And then all of the bags with the individual projects.
When I'm running out for an errand, I can grab a bag and have something to work on while I'm waiting. I really prefer to not have idle hands. The devil and idle hands and all that or something. Or maybe I just have a nervous personality or something.
When we're heading to the park or a playdate, I can grab the whole basket to bring along and then I have lots of choices of projects to work on while I'm there. We tend to stay at playdates for a long time, which is a lot of fun, and while I'm chatting with the other moms. I can get a lot of sometimes mindless work done.
What's the best way you've found to organize your many projects?
This post was published on Muse of the Morning.com