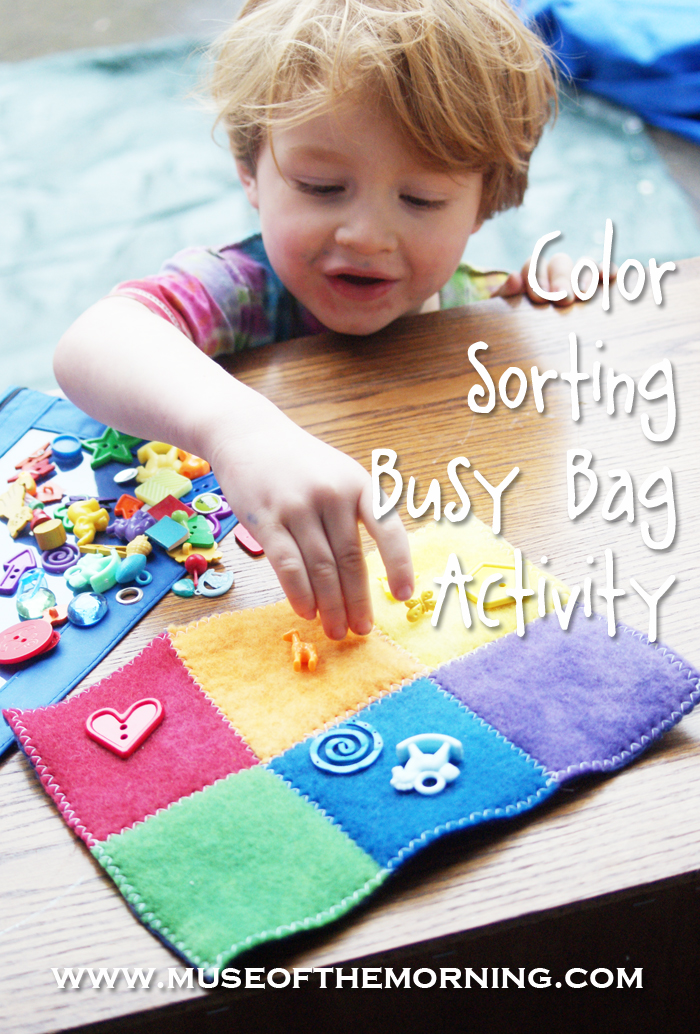 A while ago, Stephanie suggested a Busy Bag swap. It sounded like a great idea to me because I am always looking for ways to keep the little guy busy while Lil'Miss is taking a class. A group of us decided to do a virtual swap.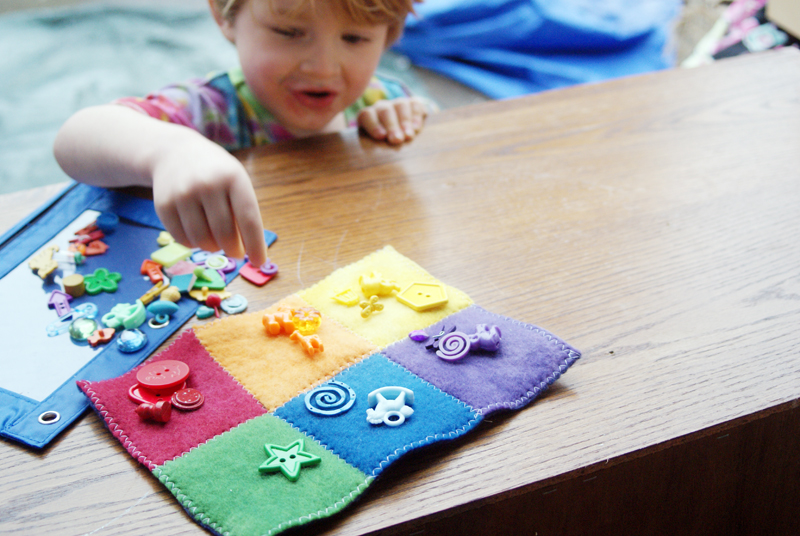 It was a lot of fun, looking for ideas of what sort of bag I should make. There are a lot of great ideas out there! I ended up making 5 different ones from some different websites out there, but this is the one I'm going to share with you today. It's a color sorting mat with a bunch of little treasures to sort. This is perfect for Mister Man because he loves the little treasures.
I collected the treasures over a lot of time because I used to sell I Spy Bags in my Etsy shop. If you don't have a collection of tiny treasures to steal from for this activity, look around your house for little things. Kids always seem to attract little toys and prizes. There are also a lot of things available online- like these colorful shape buttons, these large wooden beads or these foam beads. You can also find plastic charms on etsy. Flat marbles would be another option. My little guy finds these treasures to be fascinating and has spent a lot of time examining them.
If you've got a kiddo who mouths things, you might not want to use little tiny things. Maybe some shapes cut from felt or cut from cardstock would work. There are a lot of options!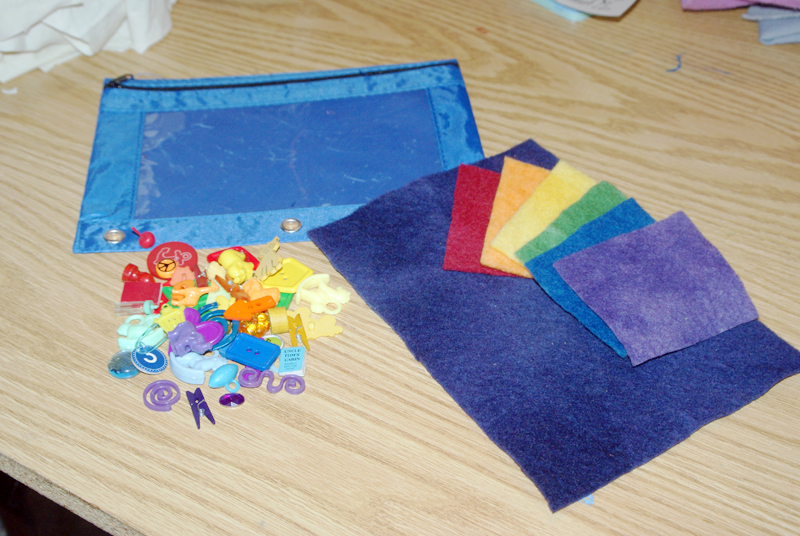 So, in addition to a small cache of treasures, you will need a 6 pieces of felt in colors red, orange, yellow, green, blue and purple. The colorful squares should measure 3×4 inches. You'll also need a larger piece of felt for the background. This can be any color and should measure 9×8 inches.
Lastly, you'll need something to keep the set in. I have been using a zippered pencil bag like this one with a vinyl window, but there are also some with mesh windows which might also be nice.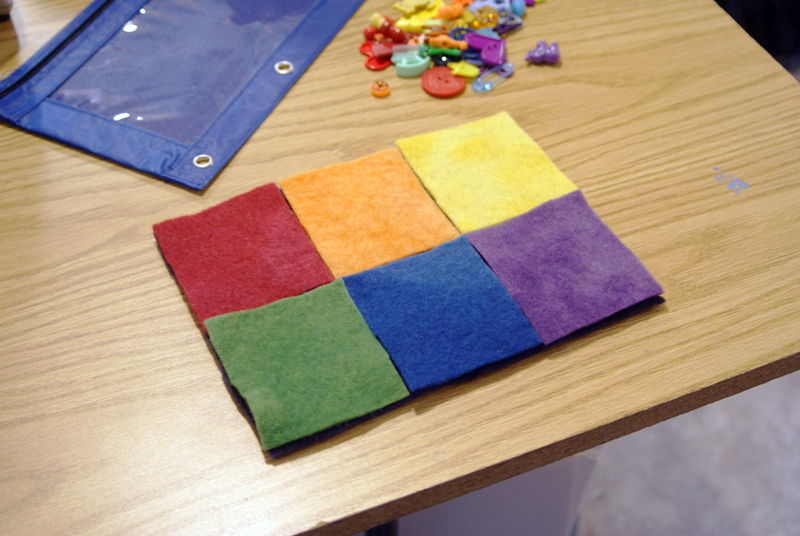 Line up the small colorful rectangles on top of the bigger piece of felt. Bump them right up against each other. You can put them in any order. I'm partial to rainbow order, so that's what I did. I highly recommend that you pin the felt squares in place so they don't move around while you're sewing.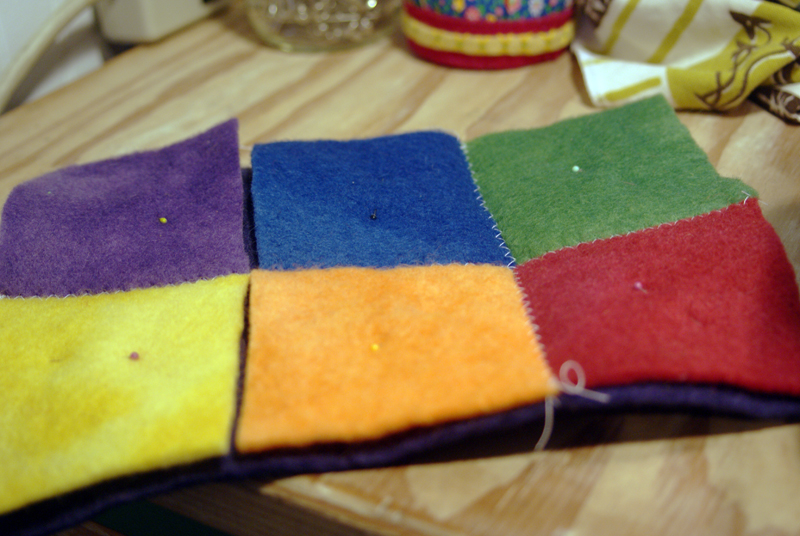 Use a wide zig-zag stitch and stitch the layers together down the center lengthwise. Catch both sides of the small rectangles as you go.
Next, stitch the other way, catching the edges of the small rectangles.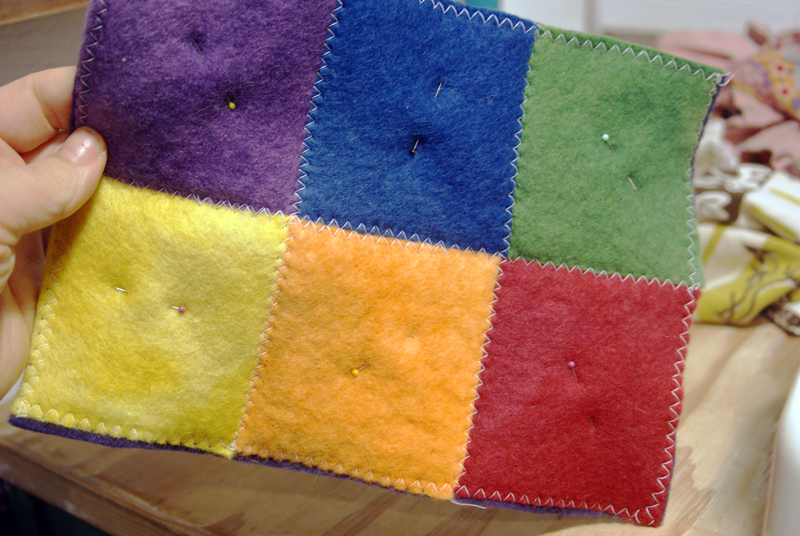 Finally, stitch around the edges, very close to the edge.
Once I was finished, I trimmed around the edges, where my stitching didn't make it all the way to the edge.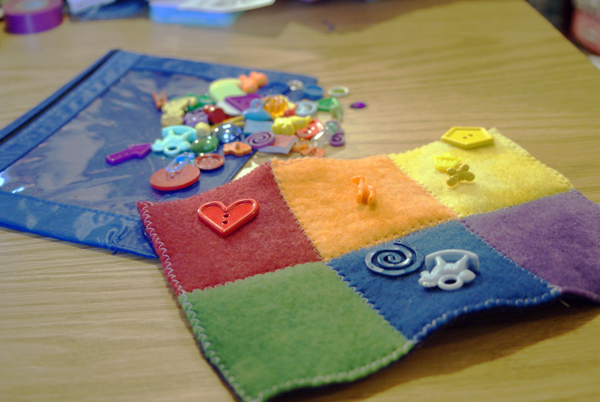 And that's it! Place the mat and the treasures in the pencil bag and bring it along for a quiet activity for your kiddo!!
To use the activity, the kiddo is supposed to sort the tiny treasures onto the rectangle that is the matching color. Of course, they don't *have* to use it that way, and I guarantee there will be a lot of exploring with all the little items to check out!
The little guy loves this set. He did not want to stop playing when I said it was time to put it away. Luckily he was pacified when I told him he'd get to play with it during Lil' Miss's Improv class next week.
So, how do you keep your little ones busy when they also need to be quiet? Anybody else have some great ideas? Share them in the comments!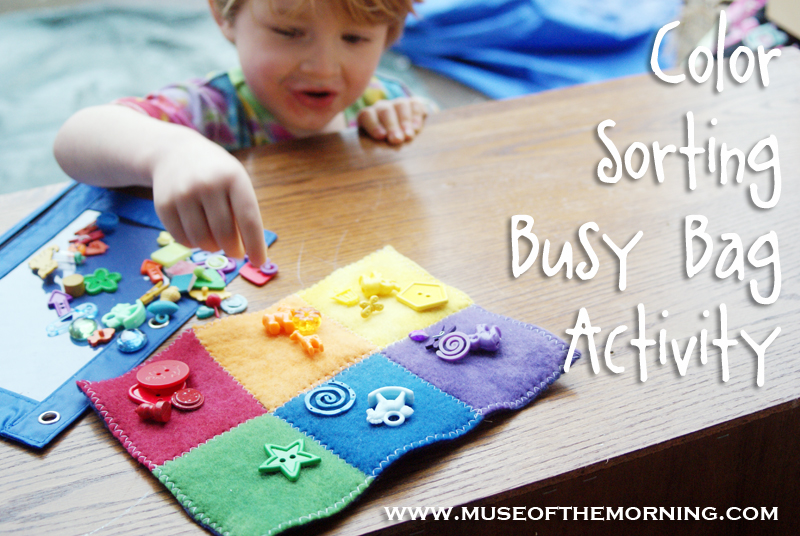 Find even more busy bag activities on my Pinterest board!!
Check out the other bloggers on this tour and see what they're doing for their busy bags!!
Check out what they've made each day:
Monday – Swoodson Says
Tuesday- Muse of the Morning
Wednesday – Hugs are Fun
Thursday- Lulu & Celeste & Phat Quarters
Friday – Friends Stitched Together
This post was published on Muse of the Morning.com