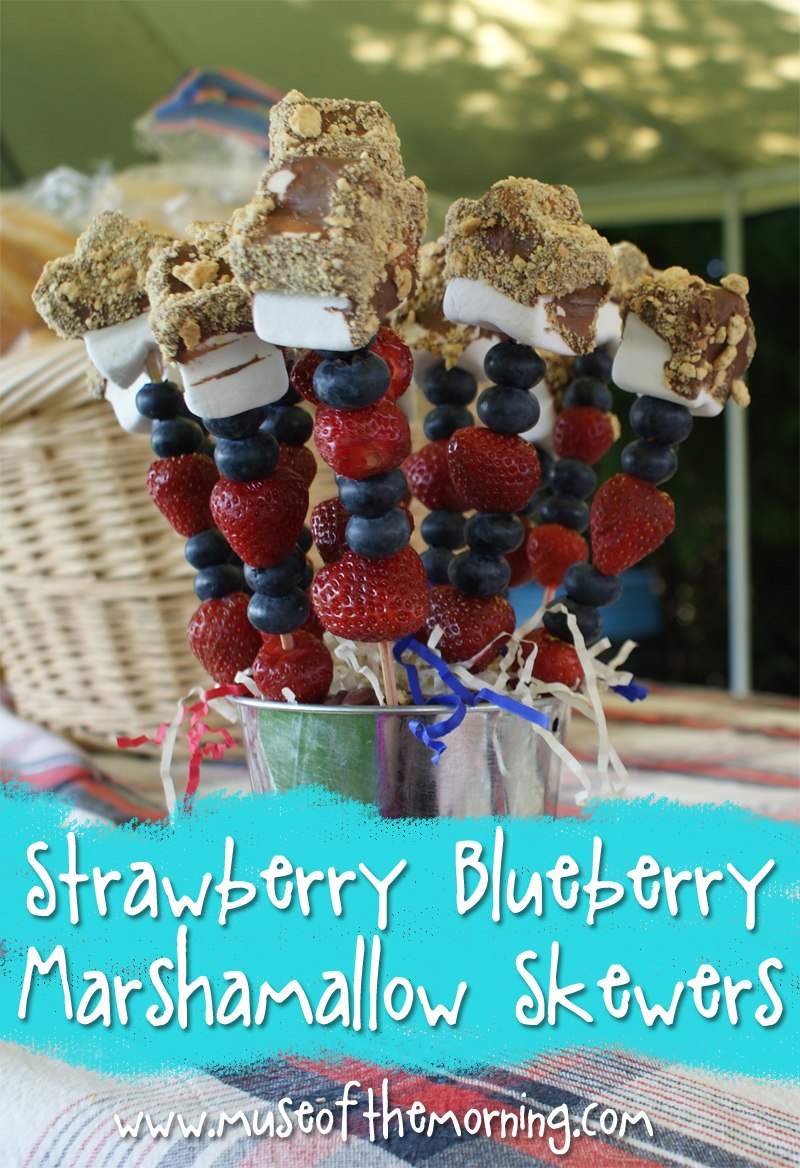 Every now and then I like to share a fun recipe. These skewer treats are fun, but not the most healthy. No, I don't truly believe that the fruit outweighs the sugar. But they're still fun for a treat for a party. I made them for the 4th of July.
They're pretty easy too.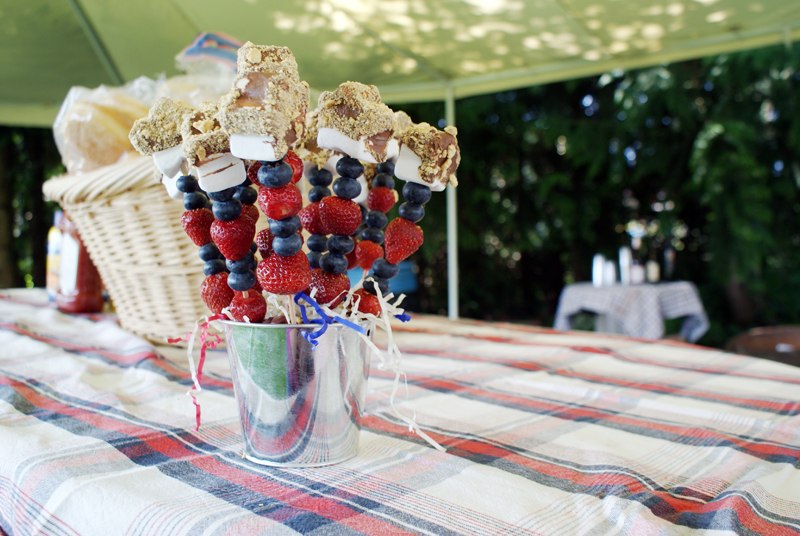 Here's what you need:
– a bag of star shaped marshmallows
– 1 package of graham crackers (optional)
– 1 package of milk chocolate chips (I use Guittard brand because it doesn't have soy, but honestly, the marshmallows are packed with corn syrup and stuff, so what does it matter? I suppose I could make my own marshmallows too….)
– a package of wooden skewers
– blueberries, washed
– strawberries, washed and the tops cut off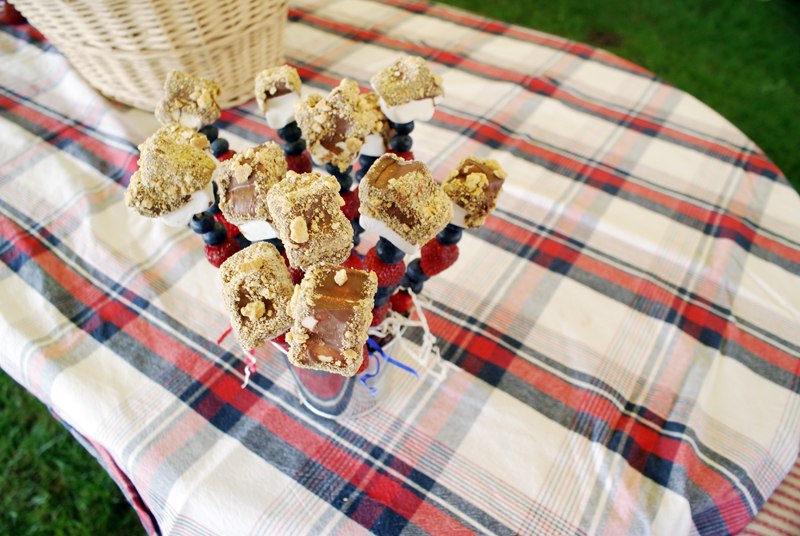 First, place one package of graham crackers in a plastic ziplock bag and crush them. Crush them good! Use a rolling pin. Or a rock. Or something. You want them in tiny crumbs. This is a good job for the kids.
Once they're crushed, pour them into a pie plate or a wide low bowl.
Now melt the chocolate chips in a double boiler over medium heat. I fill a pan about half full with water and get it boiling. Then I put the chocolate chips in one of my pyrex bowls that fits onto the top of the pan. Be careful to not get any water in the chocolate. Just use a spatula to stir and scrape the sides until it's all melted.
Skewer a marshmallow on one end and dip it in the melted chocolate. When it's adequately covered in chocolate, dip the chocolate-y bit into the crush graham crackers.
Lay it on a piece of parchment paper to solidify. Repeat with many marshmallows, until you have enough!
Lastly, skewer strawberries and blueberries alternating.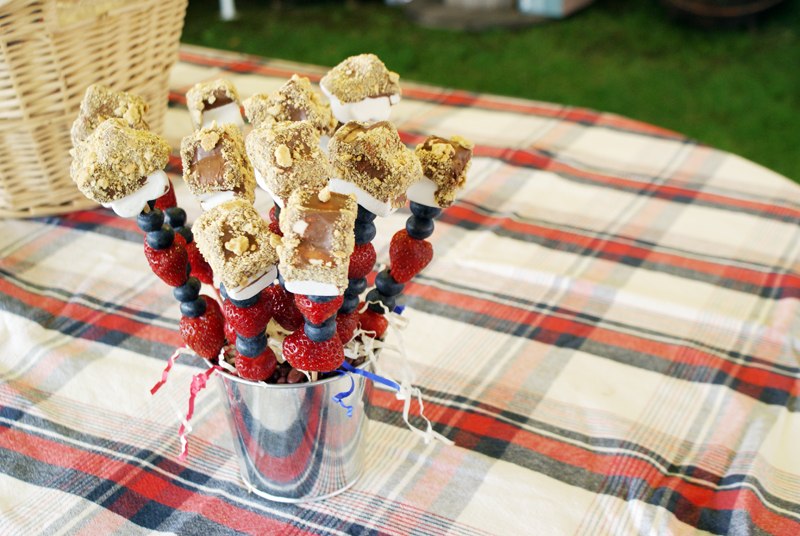 Yum, yum!!
I stood the skewers up in a little tin bucket that I found at the craft store. I filled the bucket with dried beans and put red, white, and blue paper shreds on the top. Then I just poked the skewers in, to look like a big bouquet of yumminess.
Whatcha think?
Do they look delicious?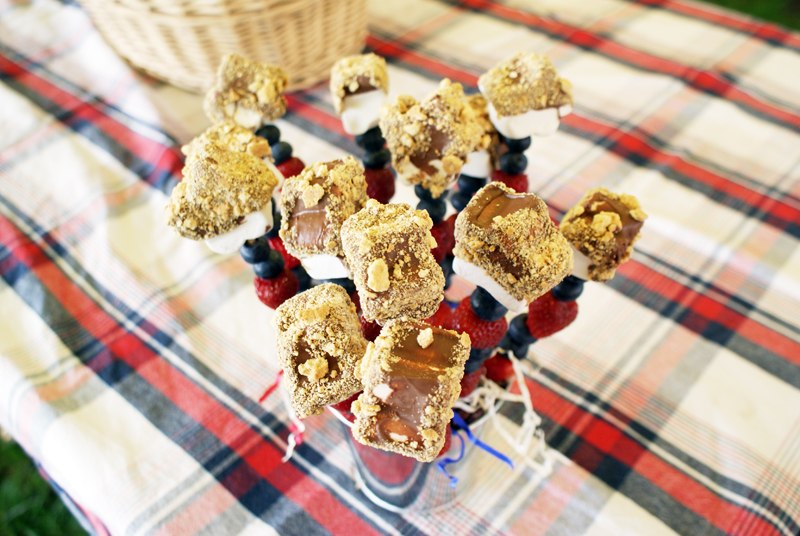 This recipe was published on Muse of the Morning.com