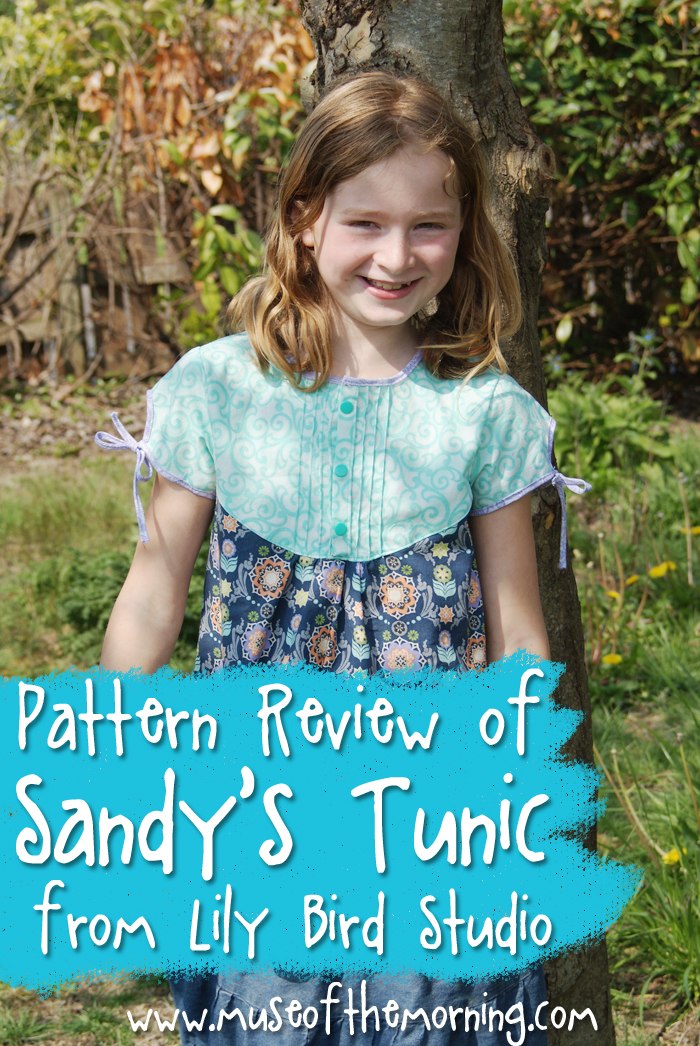 This past month, I've had the most fun opportunity! A bunch of us PDF pattern designers got together and swapped patterns to try out and share our results from! This was really exciting. I'm going to tell you I'm really nervous about what the person who is sewing my pattern has to say about it. I also had a lot of fun checking out another designer!
Before I get started on the review- READ THIS! There's a contest to win a giant pack of patterns from all the designers. Enter at the bottom of this post.
There's also a giant sale from some of the designers!! Naomi from NimblePhish got me and chose to sew up my Renaissance Maiden Outfit. So that pattern is on sale for 30% off until the 30th when you buy it right here on the website!!
Pattern Revolution is gathering together all the information about each day's posts – check out this post to see all the sales that are going on right now!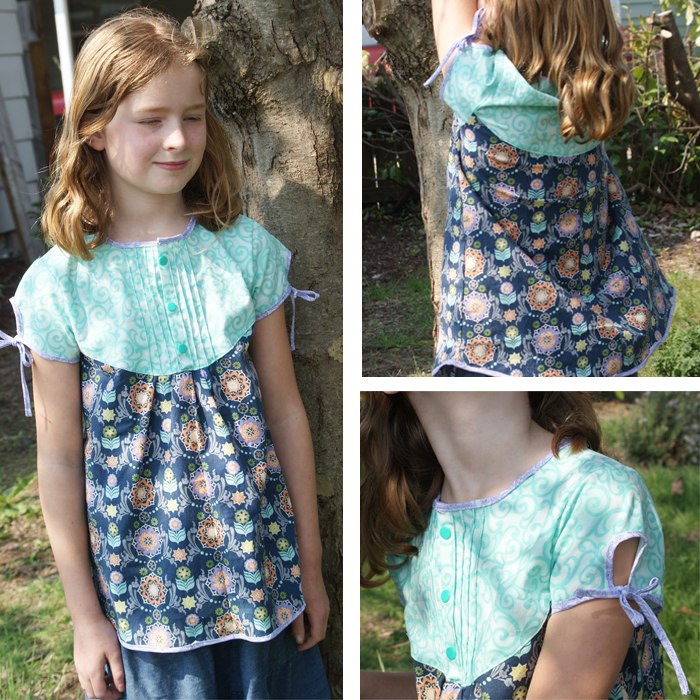 I got to choose a pattern from Lily Bird Studio. Cecilia from Lily Bird has a whole bunch of adorable patterns. I chose to sew up her Sandy's Tunic pattern for Lil' Miss.
Sandy's Tunic is super cute and is totally matches our easy-going, free-spirited nature around here. I had a hard time deciding on fabrics, but I think what I came up with worked out well. I made my own bias tape for the sleeves and neckline. Since I put that much work into it already, I went ahead and trimmed the bottom with bias tape as well, instead of hemming.
I love the pin tucks on the yoke, and the keyhole in the sleeve. These details make this a really wonderful pattern!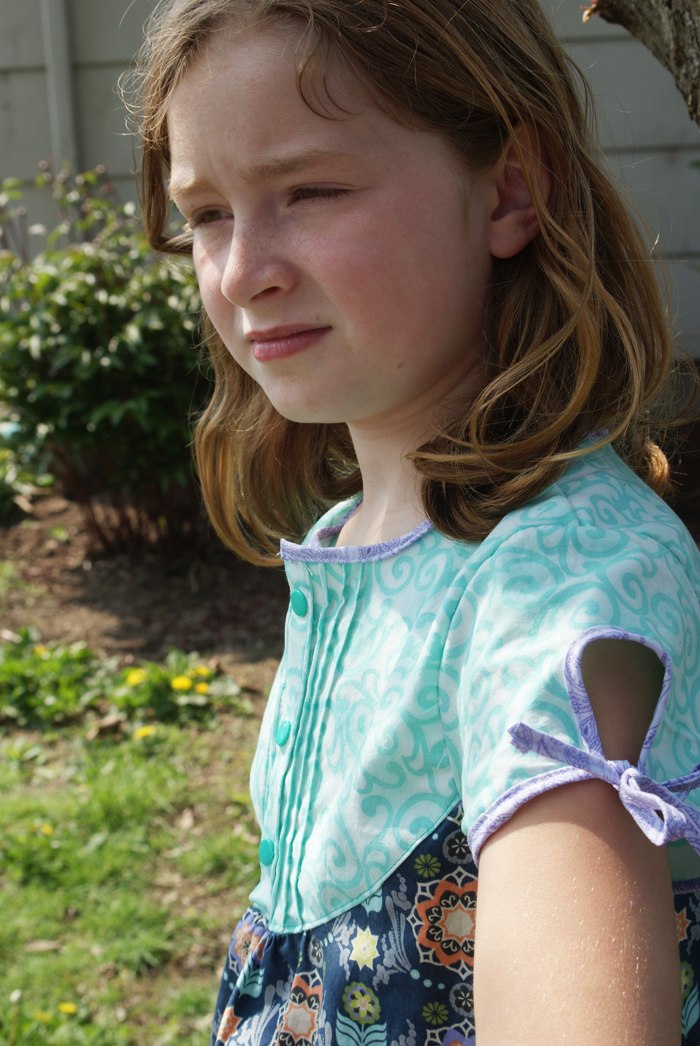 I chose the size 10 because I wanted to make sure the top would fit for a while. And because I keep thinking that Lil'Miss is still a size 7. And she's not. She's almost 10 for heaven's sake!! Anyway, she's a skinnny minnie, so I could probably have done a size 8, but she'll be able to fit this for a while, so I'm glad I chose this size. I did cut off about 4 inches off the pattern because it was really really long for a top- but that could be a benefit if you want something to wear over leggings!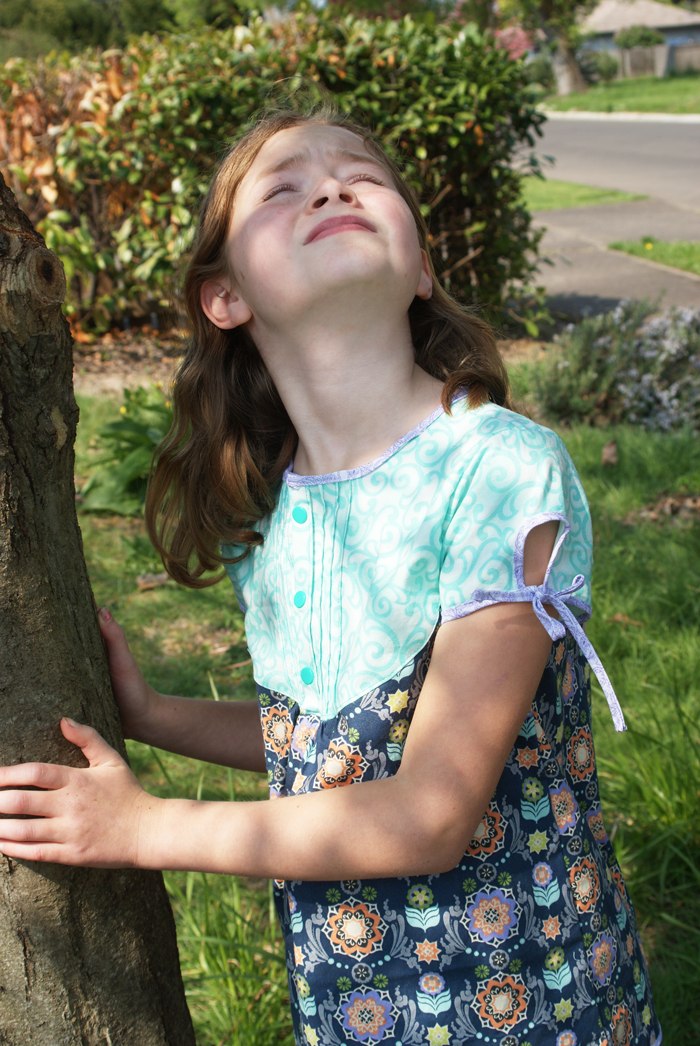 I would love to see this pattern go up a couple more sizes. I know with too much further and there are issues with developing busts, but I think that Lil'Miss will have a while before that happens, and I'd love to make a couple larger tops for later on. 🙂
Overall, I really love this pattern. Cecilia's instructions are very clear and easy to follow. She uses photos to show how the pattern goes together. Her photos are really crisp and clear, definitely some of the easiest to follow photos that I've ever seen in a PDF pattern!
I also love that she included a lot of extra info- like how to create bias tape and how to install snaps. I used her bias tape information because it was so clear and showed how to use just a quarter of a yard, rather than the usual instructions you see everywhere that are for a full yard. They were really easy to follow.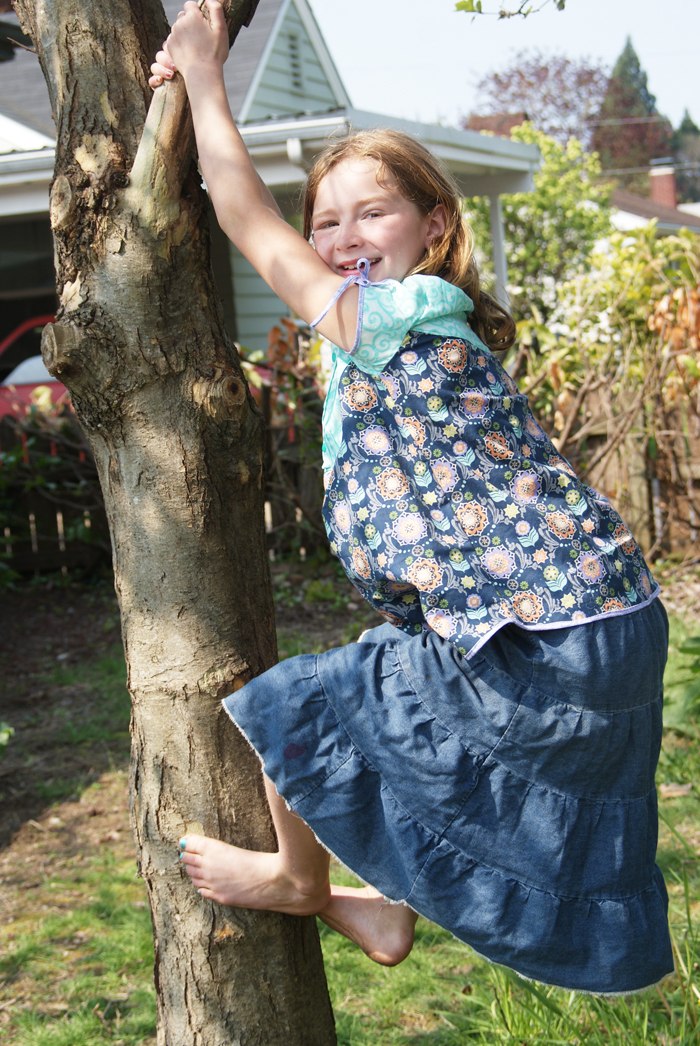 There were two things that I didn't love about the pattern, but neither are deal-killers. The first is that the pattern sheets are designated with letters. The pattern has a perfect layout diagram for how to put the pattern sheets together, but because the pages only have letters on them, it's hard to figure out which sheets to print- unless you want to print all the sleeve options.
The other thing that bothered me is that there are instructions given for gathering the sleeve before setting it in. As far as I could tell, the sleeve fits in exactly correctly, and no gathering is necessary. So that was an extraneous step and kind of confused me when I was putting the pattern together.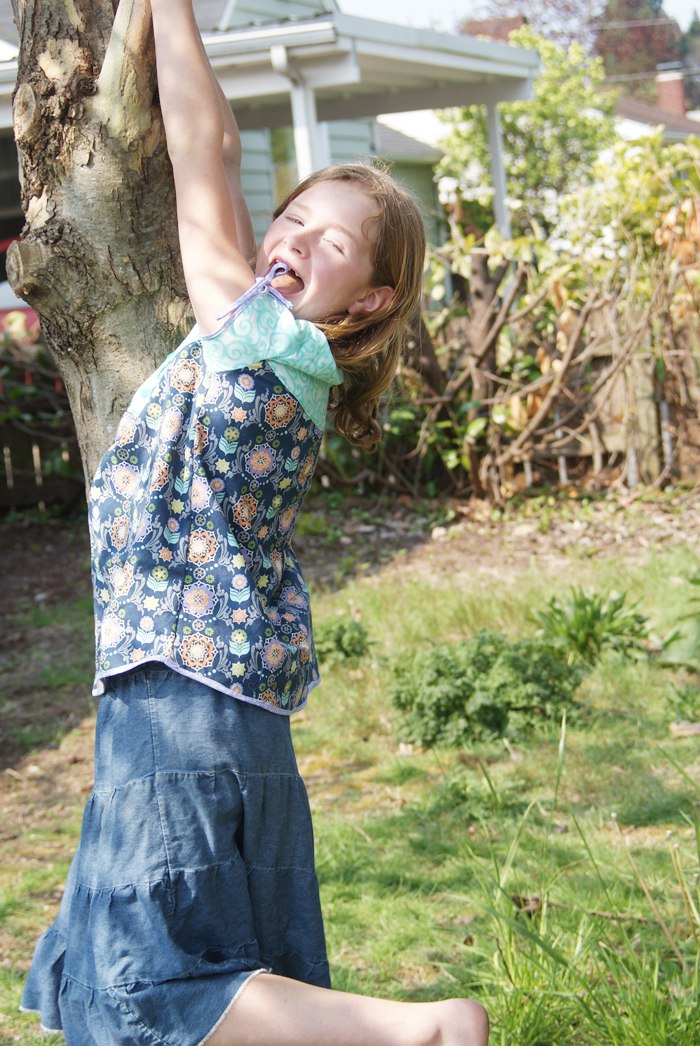 So that's it. I really loved putting this pattern together. It was easy and clear. I would call it an intermediate pattern because of the curves and bias tape/binding. But it would make a good step up for a beginner. The pattern fits well and looks great on my sweet girl!!
Thank you Cecilia, for letting me try out this pattern!
Sandy's Tunic is 25% this week to celebrate the swap! Check it out at Lily Bird Studio!
This post was published on Muse of the Morning.com