I'm starting to think a lot about the holidays! They're coming faster than you think! You know I'm seriously into handmaking everything for the holidays. I even had a blog tour last year called Handmaking The Holidays. It was awesome and had a lot of great contributors, but this year I've been so busy with the craft fairs that I haven't had a chance to do anything like that. I did join a handmade gift idea tour though- you'll get to see that next week.
Anyway- so I'm starting with decking the tree this year- here are ornaments you out of felt. Coincidentally, I sell hand-dyed wool felt in my etsy shop that would work perfectly for all of these ornaments! Check it out! And let me know what type of ornaments you'll be making this year!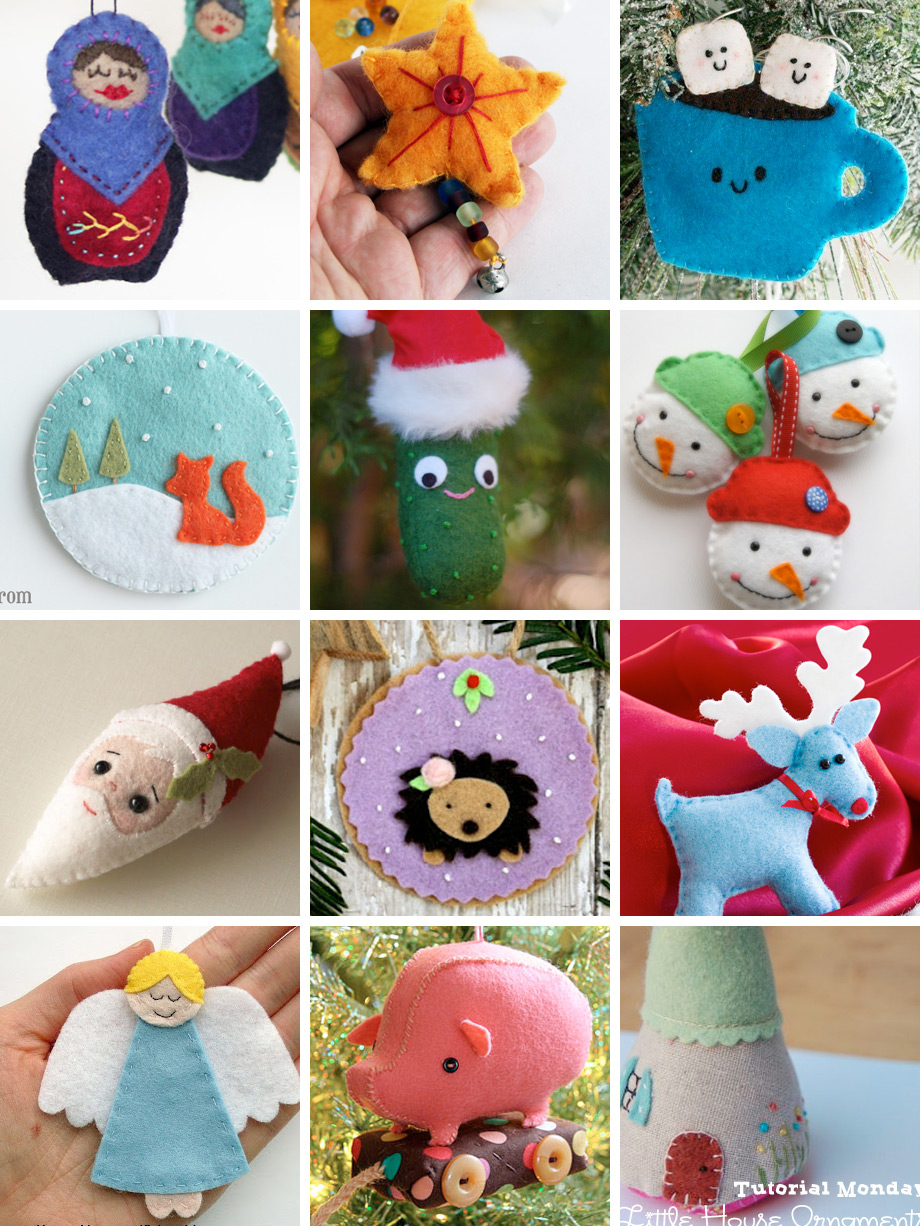 1. Of course I've got to include my own ornament pattern- this is my Lovely Lady Matryoshka pattern. I also offer this as a KIT, in two different color combos- check it out in the etsy shop.
2. Another one of my kits- it's a simple star ornament that would make an awesome stocking stuffer or gift for your favorite crafter! Find it in the etsy shop!
3. Isn't this cup of cocoa ornament adorable?!?! I love it. From Flamingo Toes
4. This fox ornament is pretty adorable. There's a deer one available on the same post too! From Cutesy Crafts
5. Here's a felt pickle pattern. I don't really get the whole Christmas Pickle thing, but this ornament is pretty cute. From While She Naps
6. These little snowman heads are adorable and they look pretty easy! From Tied With A Ribbon.
7. Gingermelon Dolls shares this sweet Santa ornament. I kind of love him!
8. This links to a bunch of different woodland animal ornaments from While Wearing Heels
9. I love this little reigndeer ornament! From Better Homes and Gardens
10. This sweet angel ornament is very sweet and looks pretty easy to make! From Bugs and Fishes
11. Can you believe this pig on wheels? I can't get over how cute it is! From Wee Wonderfuls
12. Sweet little house ornament from Pimp Stitch
And that's not all! Check out my Ornaments Pinterest Board for even more inspiration!