Easter is a few short days away and so naturally I am just getting to the special outfits for my kids. First up, because I have an idea for it, is Lil'Miss's dress.
I remember getting a new dress for Easter every year- I remember white hats and frills and white sandals… so I try to make my kid's dresses really special. However, I also want them to be for more than just one day. Lil'Miss's dress will have two parts that can be worn a couple different ways.
Ok wait, I'm getting ahead of myself… I've got the idea percolating, but the dress isn't finished, so I thought I would get you excited for some Easter dress creation by sharing these adorable dresses that I found around the blogosphere. I'll share Lil'Miss's when it's all done (which really means after Easter when I take photos LOL).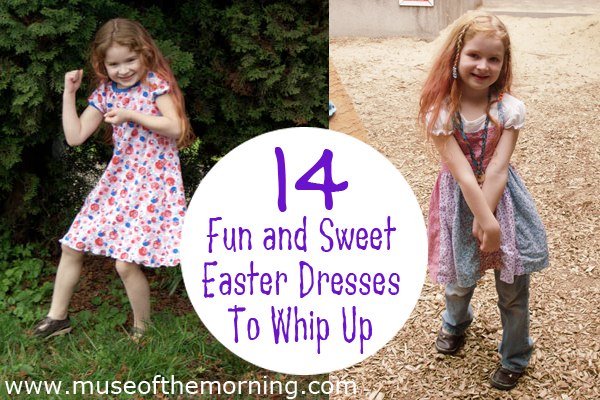 Left: Last year I made this dress- it's a variation I created a tutorial for the Practically Perfect Girl's Tee Shirt. (from me! At Muse of the Morning)
Right: This is a dress I made for Lil' Miss two years ago. I love apron dresses, they are so sweet and perfect for little hippie girls! You can see the tutorial for making your own here on the blog! (from me! At Muse of the Morning)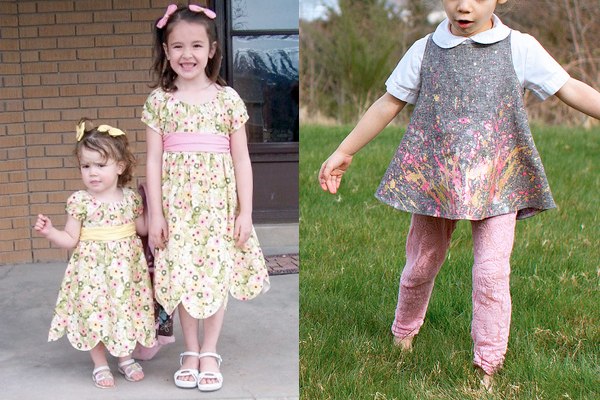 Left: Here's a sweet simple little dress– there's a tutorial too, and it can use pretty much any peasant dress pattern as a basis. (From Ladybird Lane)
Right: Isn't this Jackson Pollock inspired dress sweet and fun! I love all the splashy colors! (from Skirt As Top)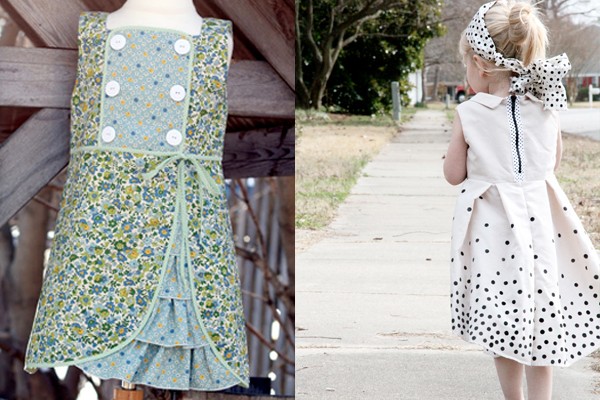 Left: I am in love with this ruffley dress that the Cottage Mama made. (From The Cottage Home)
Right: This is an amazing refashion of a men's button down shirt into an adorable little girl's dress. Wow! What a transition! (from Me Sew Crazy)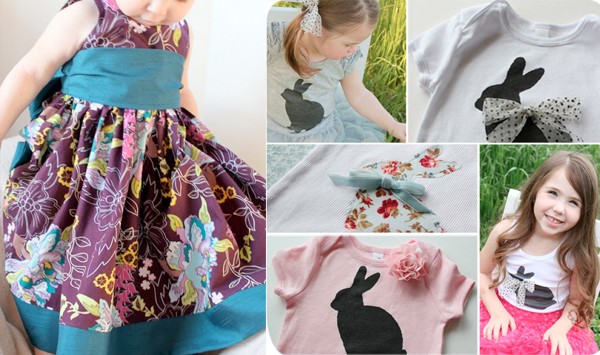 Left: Here's another dress from The Cottage Mama. This is a free pattern called The Party Dress and it looks really perfect for an Easter celebration! (from The Cottage Home)
Right: For something a little more casual, this adorable stenciled bunny shirt would be super sweet with a skirt. I'm especially loving the combination in the top left with the grey shirt. (From Girl.Inspired)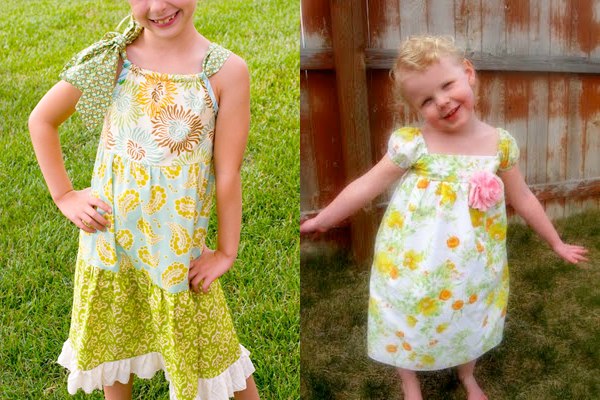 Left: For something that would be pretty simple to whip up, I love this new take on the classic pillowcase dress – a tiered pillowcase dress! (from Polka Dot Chair)
Right: This dress reminds me of something out of a Jane Austen novel! I love it, and the vintage sheet used for fabric is perfect! (from Pumpkin Pie Crafts)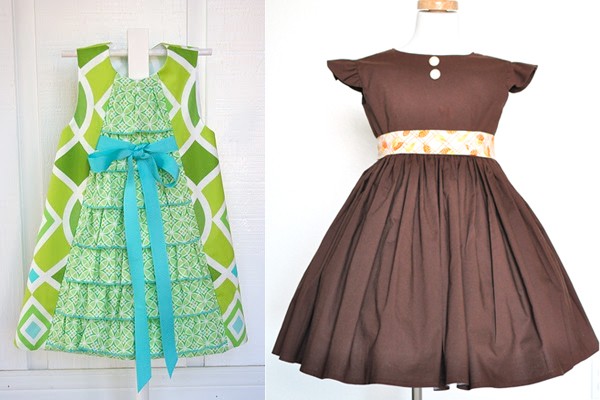 Left: Here's some more ruffles! Can you really get enough ruffles? This dress is all green and springy. You can use pretty much any a-line dress pattern to make it. (from Iveyc95)
Right: I love the classic vintage look of this adorable dress. I've always been a sucker for this style of dress! (from Simple Simon and Co.)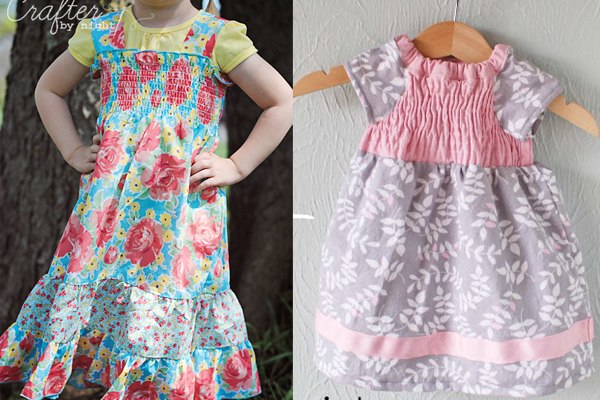 Left: Some pre-shirred fabric makes for a very easy and quick dress, that is really fun! And tiers- I love tiered dresses! (from Mommy By Day Crafter By Night)
Right: This sweet shirred dress uses shirring that you create yourself, and includes some links to instructions for shirring. (from Running With Scissors)
14 beautiful dresses! There's something in there to inspire you, right? But probably, you're much more on top of it and you're finished with your kids Easter clothes, right? Tell me about them! Link to your favorite outfits or the ones you've made!