This post is resources for the recently released Renaissance Maiden outfit – you can purchase the pattern here in the shop!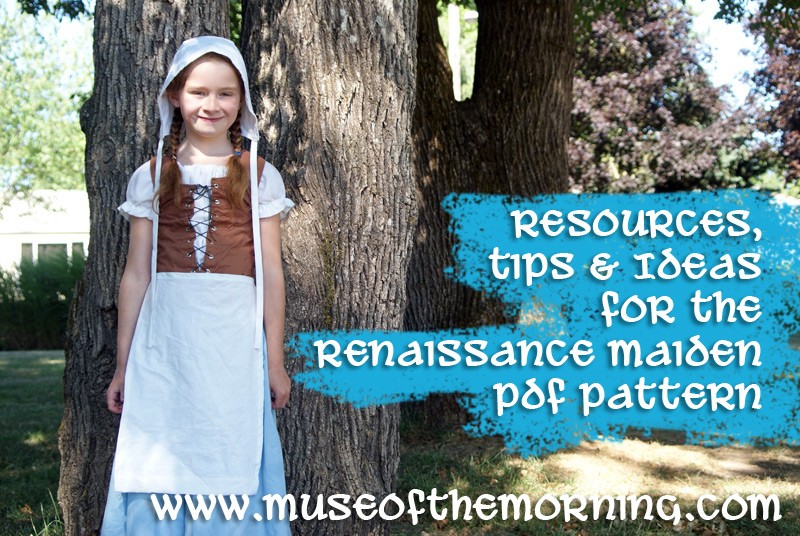 Fabric Choices
The general problem with children is that the grow so quickly. Before I designed this pattern, I never wanted to use nice fabrics on my daughter's garb because she'd wear it for one season and then it would never fit again. This pattern lasts so much longer though, that now I feel able to use more expensive fabrics.
Like I stated in the pattern, linen and wool would be pretty much the only available choices during the Renaissance. Cotton was found in those days, but it was very expensive and hard to find. Right now, in general, linen and cotton are similarly priced, especially if you're buying the linen online. Both linen and wool will breathe better than any other fabric, especially better than synthetic fabrics.
Here is where I look when purchasing fabric- Fabrics Store.com carries almost exclusively linen and linen blends.
Lighter weight linen in white can be used for the chemise, while heavier weight linen can be used for the bodice and skirts.
Wool, I have found is best bought in person. It is much easier to judge what a wool fabric will be good for if you can touch it.
Cotton is often accepted as a substitute for linen at SCA events. I don't know what's generally accepted at Renaissance Faires. The weight of the cotton still needs to be paid attention to. Some of the heavier weight quilting cottons will hang weirdly and get static-y around the legs. This is also the type that seems to pick up random threads too.
Fabric Colors
Surprisingly, there was a huge variance in available fabric colors during the Renaissance. Below is a photo with a bunch of color samples from Crossett Library Bennington College. Click on the image to get a larger view.


There are a couple other places I like also, for viewing color choices: Twist Collective and the Realm of Venus. Here is one more photo of dyed yarn on Flickr.
Supplies to Sew The Outfit:
Some supplies that are called for in the Renaissance Maiden outfit may be hard to find. I'm going to try to list some things here that I think are very important to finish the pattern, and where you can find some.
Grommets & Grommet Setter
Although you could use eyelets for the bodice lacing, I highly recommend using grommets. They are stronger and easier to install. I purchased a box of metal grommets and grommet pliers from a leather-work shop, but you can find a small kit on Amazon, or at any hardware store. I don't recommend using grommets from the fabric store. The bodice may be in use for many years and you will want them to last. The grommets are machine washable, once they've been installed. The pliers on the very left in this set are very like the ones I have.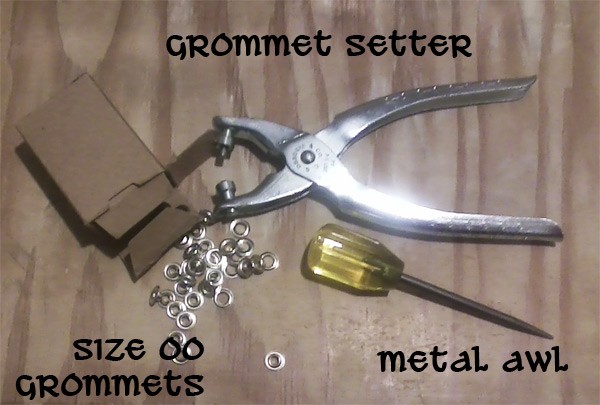 Instead of using a punch to make holes in the fabric, I like to use a small awl, which makes it possible to make the holes without tearing the fabric, retaining it's strength.
Alternatively, you can make hand sewn eyelets. They are more work, but they are also the most authentic option. The Sempstress has a wonderful tutorial on How to Sew Eyelets.
Blackwork Embroidery
Blackwork was a primary embroidery style of the Elizabethan era. It is generally a counted thread embroidery using only black thread. Red thread, called Redwork, was also used.
Blackwork Archives is a good place to get started learning about blackwork, and for finding patterns. They even have a page specifically about embroidery on Renaissance clothing.
Coif Decoration
Elizabethan Costume.net has a nice page talking about the use of embroidery on coifs. The ones shown there are a fancier style of coif, but the embroidery techniques there can be used on the coif included in this pattern.
---
Accessories to Really *Make* The Outfit:
Ok, you've got your amazingly beautiful outfit to wear to Faire or an SCA event. Now what?
Use some simple accessories to really make the outfit look even more authentic.
Stockings:
Knee length stockings were often worn in the Elizabethan period. There are tutorials out there for sewing some if you like.
If you don't want to make some, a knee length knitted stocking in solid colors or stripes are good choices. A wool stocking would be the most authentic choice. These may not be exactly period in color or design, but they are a close approximation for costuming purposes.
Here are some ideas for stockings to wear:
Here are some wool and wool blend options. These are all women's sizes.
Shoes: There are many styles of shoes that were used in the Elizabethan period. For comfort and a simple authentic look, I recommend a basic pair of Mary Jane style shoes. The style of China Flats is actually authentic, though today they're often made of cotton uppers and rubber soles, whereas they would have been made of linen, leather or wool uppers and leather soles in period.
Another very inexpensive option for shoes are a pair of simple single color ballet flats in black or brown.
Straw Hat: A hat is a must-have to keep the sun off of delicate faces. Straw hats with a wide brim are easily found at craft stores, and often at thrift stores. Choose a very simple style with natural straw.
Belt Hooks: To keep mugs and other sundry items attached to the belt, some belt hooks are needed. These are often leather straps that have a loop for going on the belt and a button or toggle clasp to attach items to it for easy removal. These are sometimes called tankard straps and mug straps.
(The following are not affiliate links, these are just listings on etsy that look awesome.)
Here's one with a button and loop clasp. These are some really cool ones with a snap closure. And here's one with two snaps so the whole strap will come off without taking the belt off.
So there you go- a list of some really awesome products that you can buy to really enhance your SCA or Renn Faire garb! Do you have some items that you use that I'm missing from this list?
Chrissy Leiberan-Titus writes for Muse of the Morning.com
Save
Save