Boys totally get left out of the cuteness parade sometimes huh? There are tons and tons and tons of outfits out there for girls. Tutorials are a dime a dozen! Tutorials for boy things are a lot harder to find. Now that I have a little guy, I'm a lot more interested in this deficiency and I would like to try to rectify it.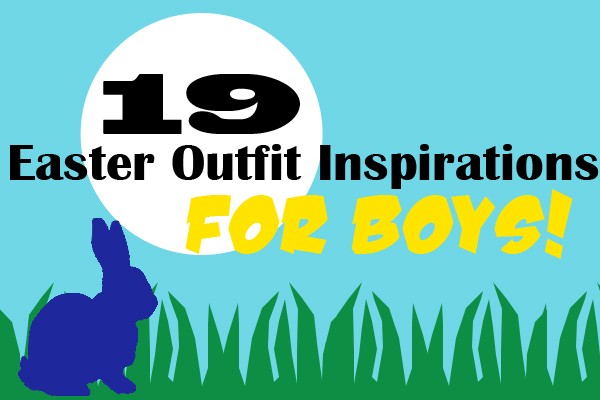 Easter is one of the classic times of year when children get a new outfit and boys need super cute outfits, just like the girls. I'm still thinking about what Mr.Man will be wearing, but here are a bunch of adorable boy outfits to get you inspired for your little man!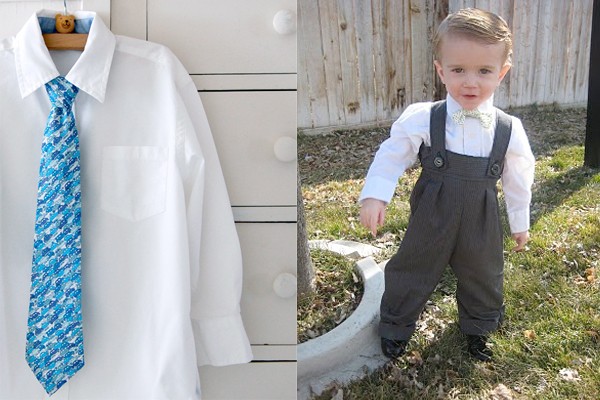 Left: Look at this adorable tie for a little boy – you can use your favorite fabric to whip up a tie to pair with a ready-made button down shirt and slacks (or jeans! Wouldn't that be adorable!?). (From The Purl Bee)
Right: Are these little overalls so so adorable?!! I am in love with this little guy and his dapper outfit!
(From Sew a Straight Line)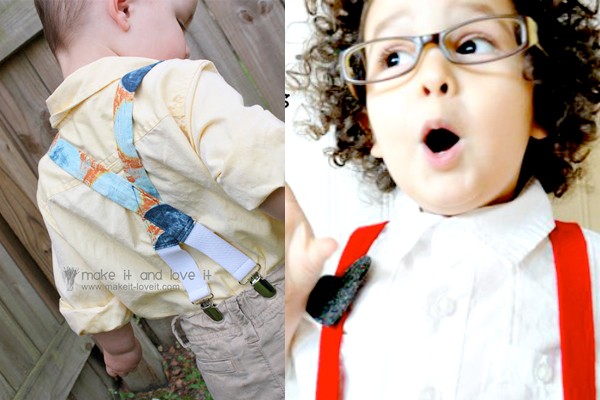 I need to make some suspenders for Mr. Man- aren't these adorable?!
Left: These are some really sweet, and easy to make suspenders. You could create a sweet Cameron Frye outfit with these too, if you wanted to go a little more casual. (from Make It and Love It)
Right: This little guy is adorable! I'm saying adorable a lot today! These are faux suspenders made from felt and mitten clips. (From Jojo and Eloise)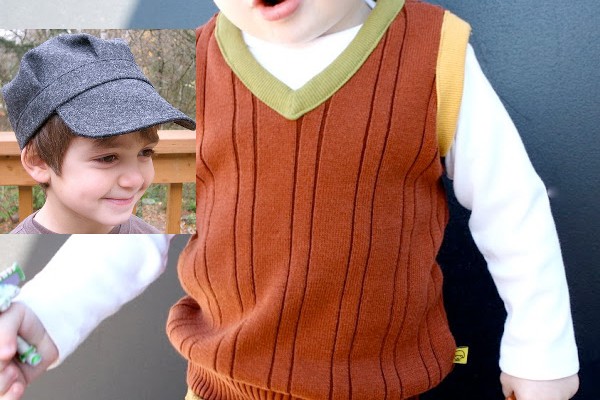 Left, upper: The accessories may be where it's at for making super adorable boy's clothing! This hat is called the Eddie hat and it would look so sweet on a little guy's head! (From Mushroom Villagers)
Right: I'm on the look out for a sweater to turn into something like this repurposed sweater for little guys. (From MADE)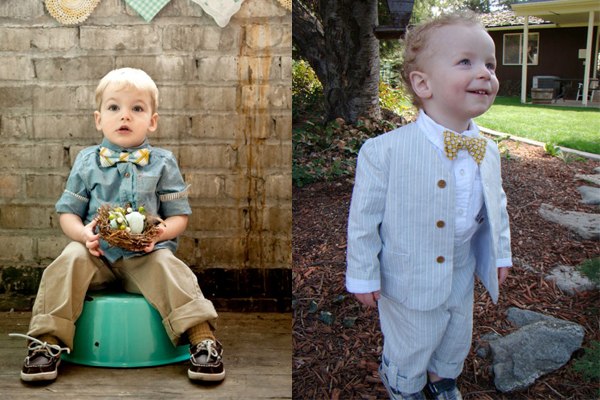 Left: This tutorial for a super quick and easy bow tie to accessorize a sweet little outfit. (From Paper And Stitch)
Right: This little man is so sweet in his dapper little suit (From Mad Mim)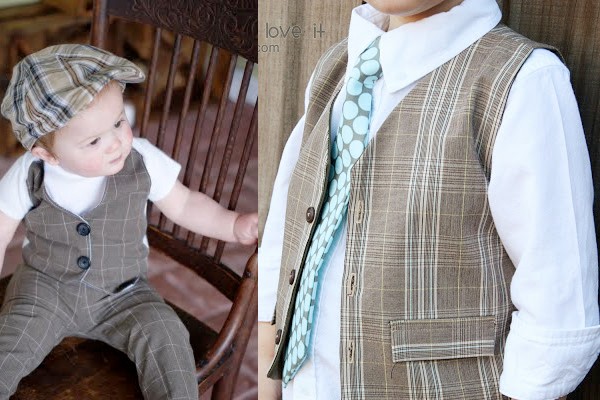 Left: Re-purposing other clothes is perfect for boy's clothing! Look at this little onesie that has had a faux vest sewn onto it! (From B Is For Boy Creations)
Right: Use an old pair of men's slacks to make a reversible vest. (From Make It And Love It)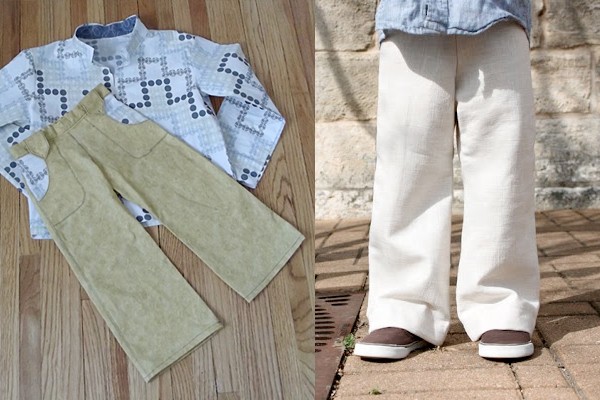 Left: Aren't these pants awesome?! They are a great solution for older guys! (From Once Upon A Sewing Machine)
Right: These pants are classic. The flat front pants work great for older or younger guys. Try them out in a nice crisp linen. (From MADE)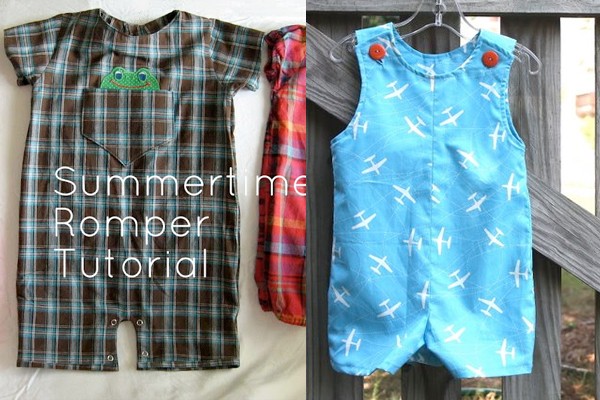 Left: It's Romper time! Don't you just love rompers? This is a tutorial to make one! (From Pick Up Some Creativity)
Right: Here's another version They call these jon jons, which I totally don't get. Must be a regional thing. I just call them adorable shortalls and probably what I'll be making Mr.Man for his Easter outfit. (From Prudent Baby)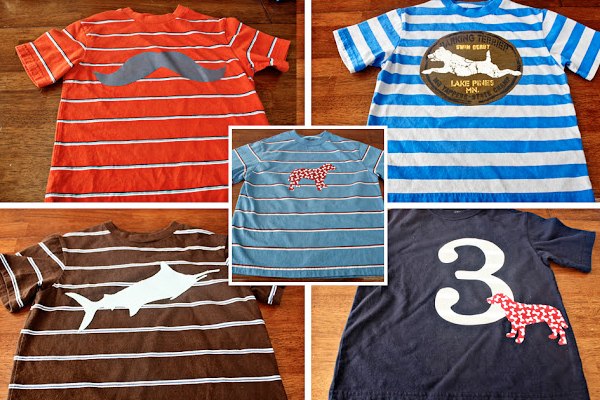 Once you've got your romper or short-alls started – add a little fun! Check out this tutorial for making appliques on t-shirts. Don't forget to sew the applique down (the fabric will come off in the wash, especially heavier weight fabrics). You can use Easter shapes- bunnies, chicks, eggs, how about some Easter grass? (From Clarendon Lane)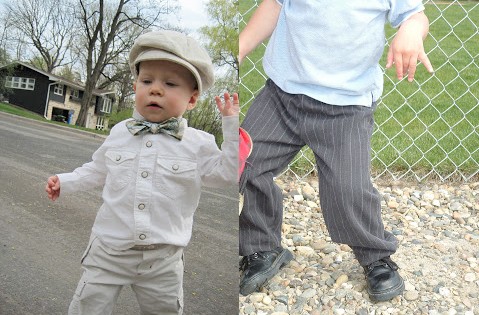 Left: This little guy is awfully cute. You could easily put together the Eddie cap, the flat front pants and a bow tie all together to create this ensemble! (From Designer's Condition)
Right: Another refashion! Make these little pin striped pants for any special occasion. (From Helping Little Hands)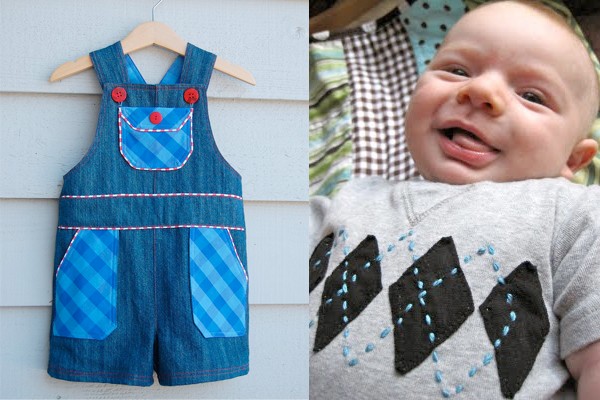 Left: I am so in love with super sweet short alls! In the tutorial there are tips on how to make the colors coordinate. Mmm! Love! (From Ikatbag)
Right: Make your little man an argyle t-shirt for Easter. Make that on a polo shirt, onesie or regular tee… so sweet! (From Lulubird Baby)
Alrighty! That's a lot to get you inspired. What are your little guy Easter outfits looking like? Did I miss anything?