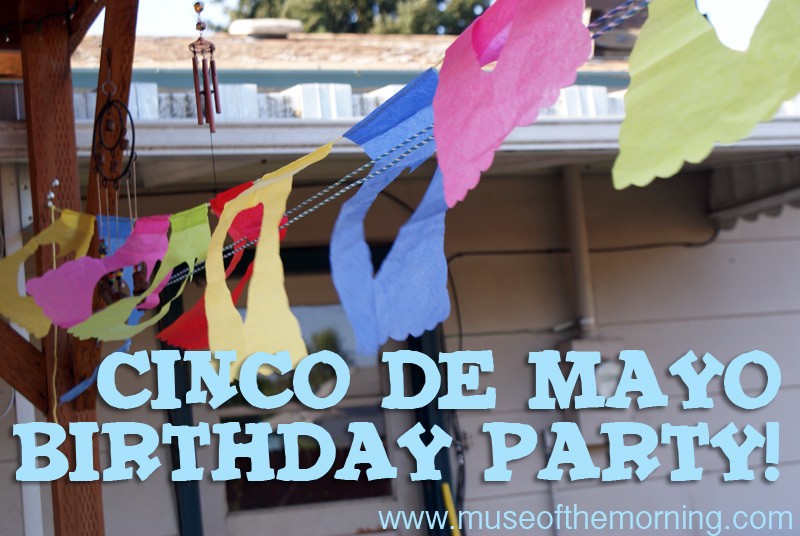 Mr. Man's Birthday very conveniently falls on Cinco de Mayo- not a holiday that we generally celebrate, but what with it being on a Saturday this year and him not caring about the party, we decided it seemed like the perfect theme for his party. I went a little crazy though. I think it was a combination of the new house, the gorgeous weather we've been having and this possibly being the last First Birthday party that I'll get to throw. It might have also had something to do with my renewed blogging that I've been doing….hmmm…. Everyone had a good time and that's all the matters!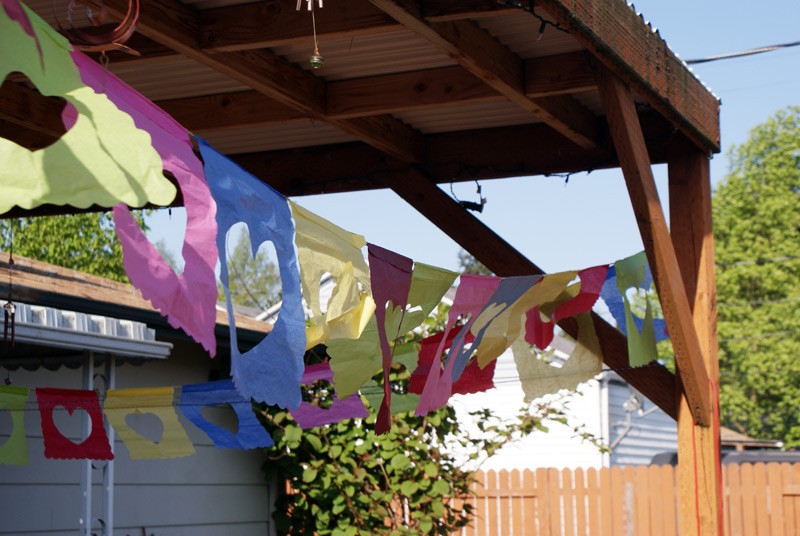 I looked and looked for one of the Mexican cut paper flags, but they were plastic and/or too expensive. I was just going to skip it, but I found a tutorial on Style Me Pretty to make one that was fairly simple. I don't have a paper edger, so I just cut scalloped edges. I just used a package of tissue paper from the Dollar Store and some yarn I had around the house. I also made some paper fans but I only got a couple hung up before I ran out of time. I also hung up our Kool Aid Dyed Wool Felt Garland and our birthday bunting, which you'll see in another photo. And sombreros! Some were for party favors, but there were enough left over so I hung them up- you'll see in other pictures.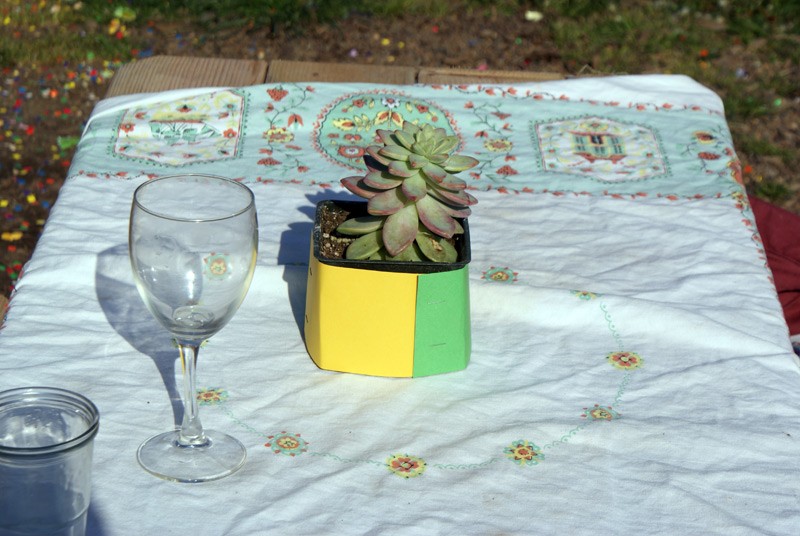 There were centerpieces for each table. They were all different types of succulents, which I borrowed from my mom. To make the wrapper, I cut 2 strips of scrapbook paper and stapled them together, then stapled the other end and slipped the pot right inside. Then I folded the corners to make it look more sqare. It was really simple.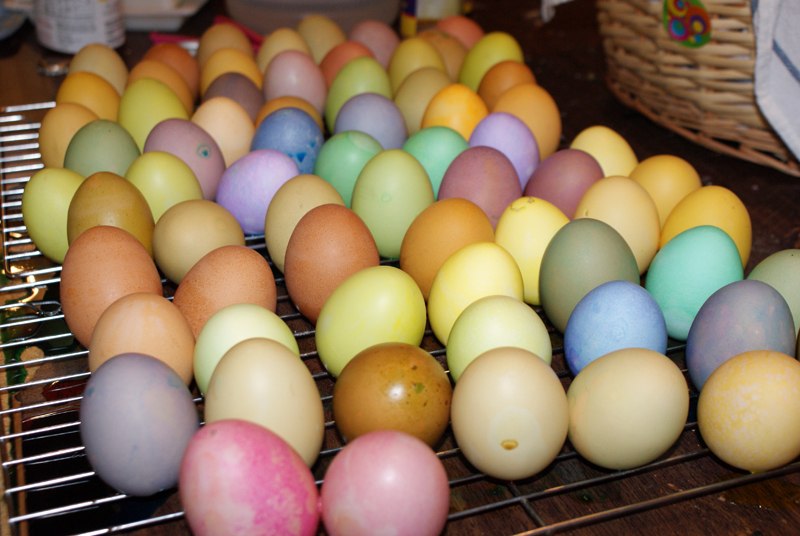 For kid's activities, Lil' Miss and I made cascarones or confetti eggs. These are the eggs after we'd dyed them. I didn't get a picture of them all finished in their basket. 🙁 We collected eggs for months to get this many. We dyed them with a leftover packet of egg dye and with liquid watercolors. We usually buy brown eggs, and our chickens lay pink and blue eggs so that's why they're so earthy in tone.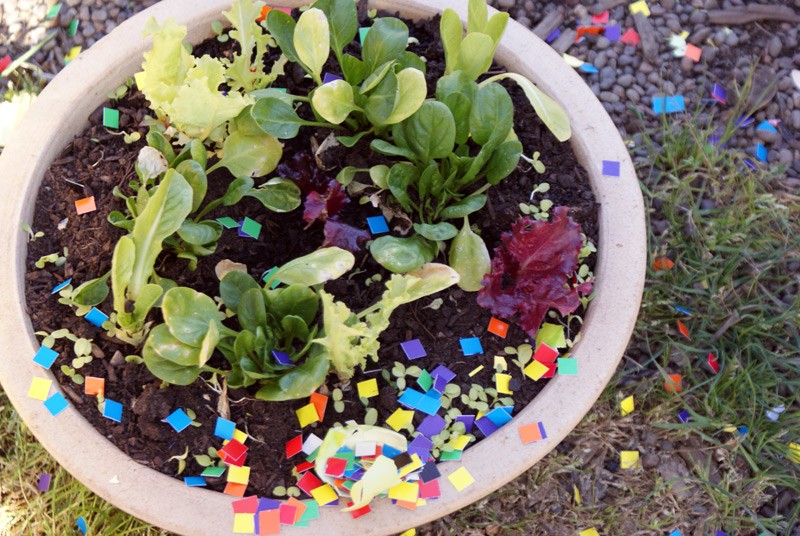 The kids (and some grown-ups, including The Hubs) had a little egg fight in the backyard. I missed it, but my little lettuce got a nice dose!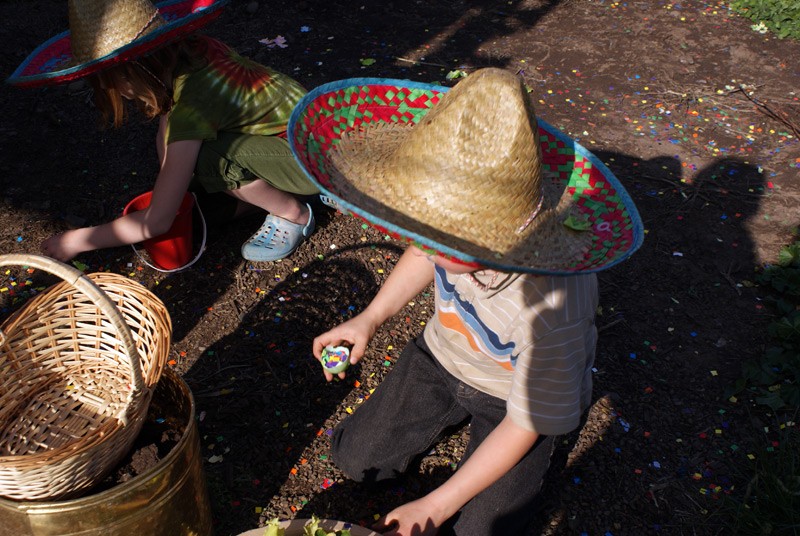 It was kind of a double activity, because after they were finished cracking the eggs, the kids all gathered up the confetti and collected it in their eggshells. They're so funny. I love kids.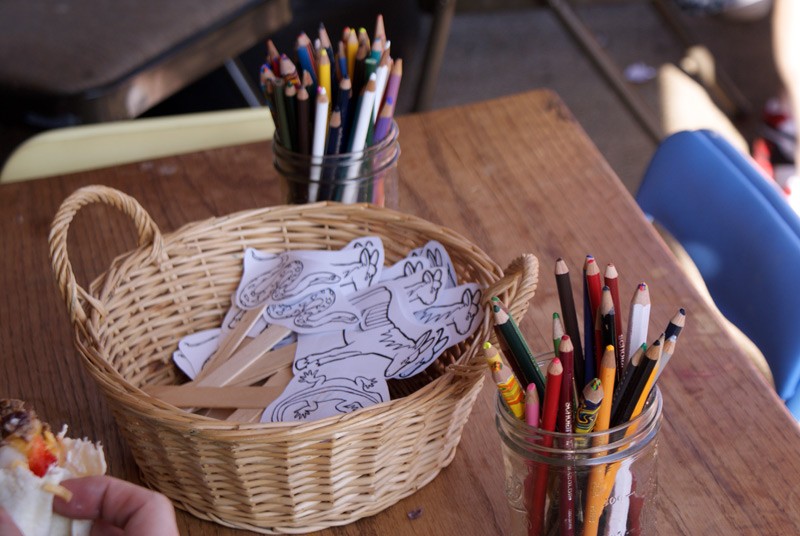 There were also stick puppets for the kids to color. I did a little research on some animals common to Mexico and then googled coloring sheets to get these images. I copied them into Illustrator and made them the right size, printed them onto cardstock and then Lil' Miss and I cut them out and glued them to tongue depressors. Popsicle sticks would work too.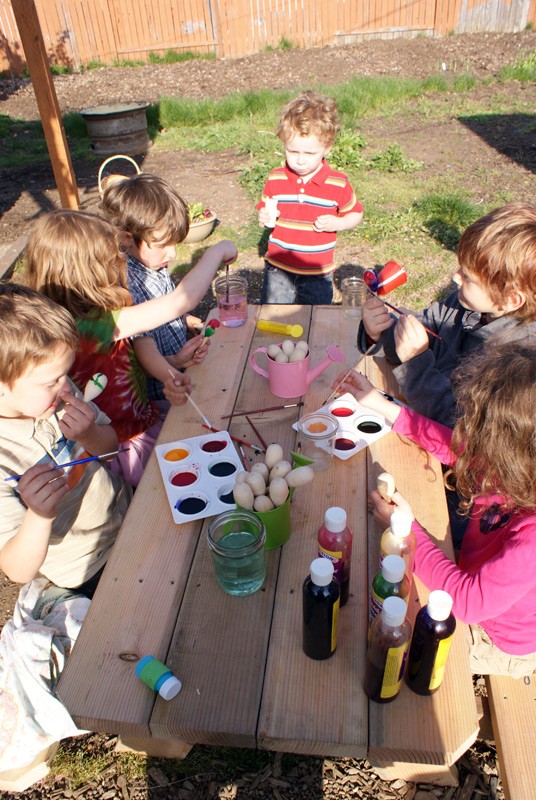 My original idea for kid activities was these maracas. I ordered them from Oriental Trading, but when they got here, I was really disappointed with how tiny they were! I think if I had known that, I might have made these maracas with an easter egg and two plastic spoons. Then I would have maybe papier mache'd them and let the kids paint them.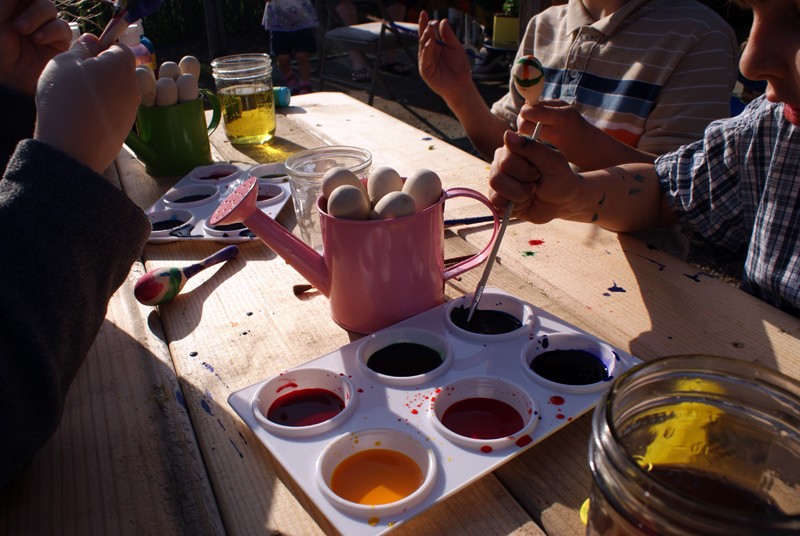 Anyway, they still enjoyed painting the maracas. We used liquid watercolors because I figured they would dry faster.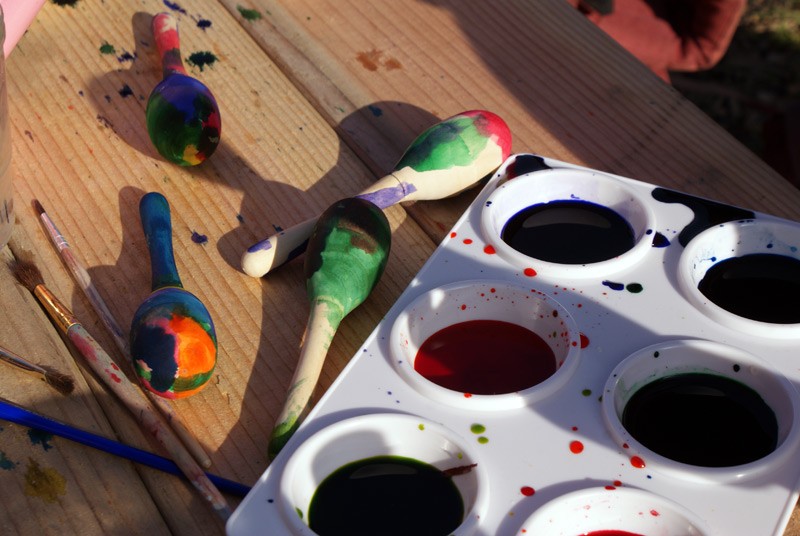 Oh, and do you see that picnic table the kids are painting at? Yeah, my Dad made that for Mr. Man! Best present ever!! I am so excited about it!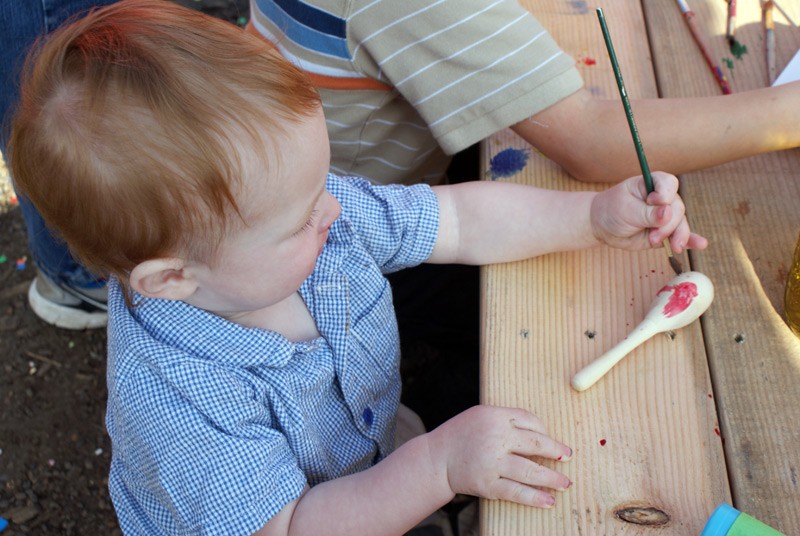 Even Mr. Man got in on the painting action! He painted on the maraca for a second and then just rubbed the paintbrush on the table until he got bored. He sure loved being around the bigger kids though!!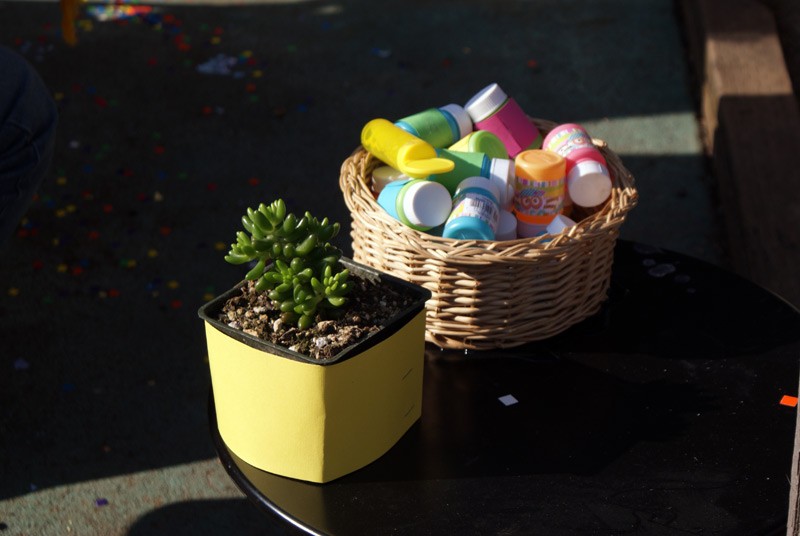 There were bubbles for the kids too. Lots of stuff to keep the busy, but they also enjoyed just exploring our backyard.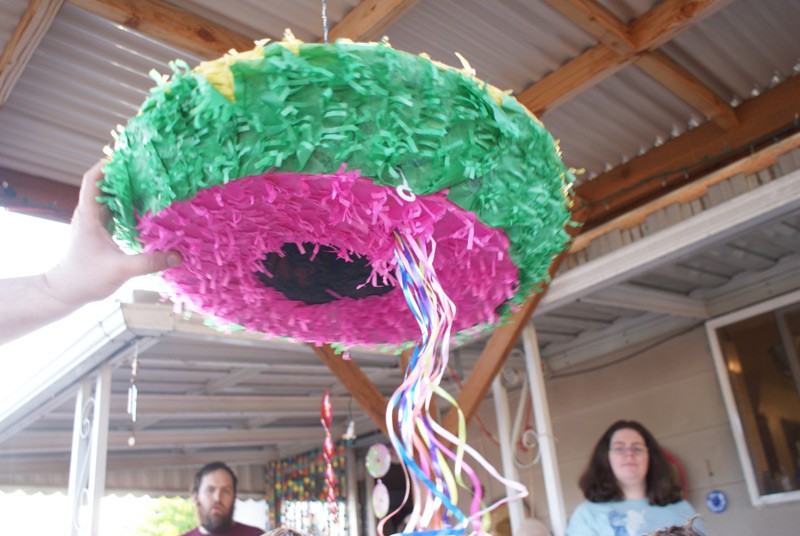 Of course there was a pinata too! It was a pull-pinata because we thought Mr. Man might even be able to partake. He didn't really care.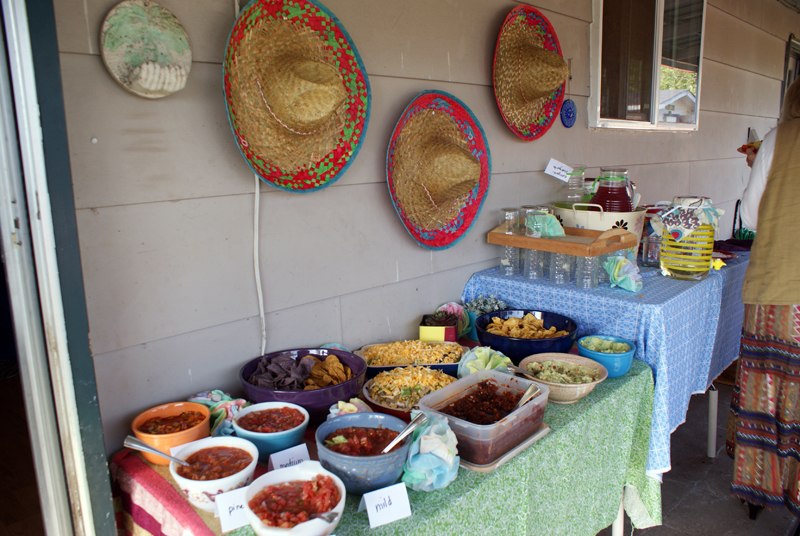 Then there was the food. This is where I might have overdone it. There were a bunch of different types of salsa with chips. Two types of guacamole and two 5 layer dips. No I did not make the salsa. But The Hub's Dad did bring some that he had made.
And those sombreros? They're a great decoration- but here's the story behind them. I wanted sombreros for party favors, so I ordered a dozen with the maracas from Oriental Trading, figuring that would be the least expensive place. They were more than $2.00 apiece, which isn't a lot, BUT then? Yeah, I just happened to go into the Dollar Store and found those colored ones!! They were the only Cinco de Mayo stuff that they had. Sheesh! So I had to pick up a bunch of those ones for decoration.
For drinks, we had buckets of margaritas and daqueris for the grown-ups and then a bucket if margarita without booze and a Sangria like punch for the kids. Like the recipe suggests, I used cranberry juice.
You can see the bright colored "tablecloths" I used- I didn't have enough table cloths for all the tables, so I used a bunch of bright colored fabrics I had in my sewing cabinet. I love all the bright colors!!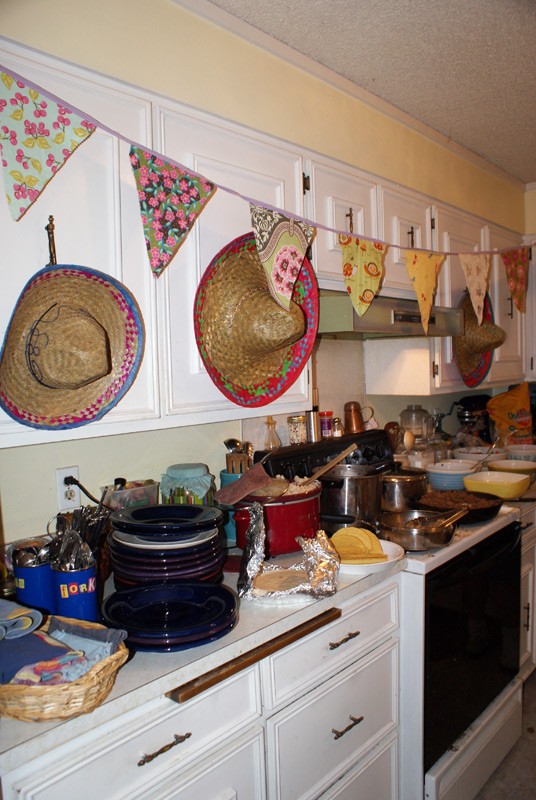 Dinner, of course, was tacos.
Tortillas, brown rice and black beans. Ground beef for filler and also…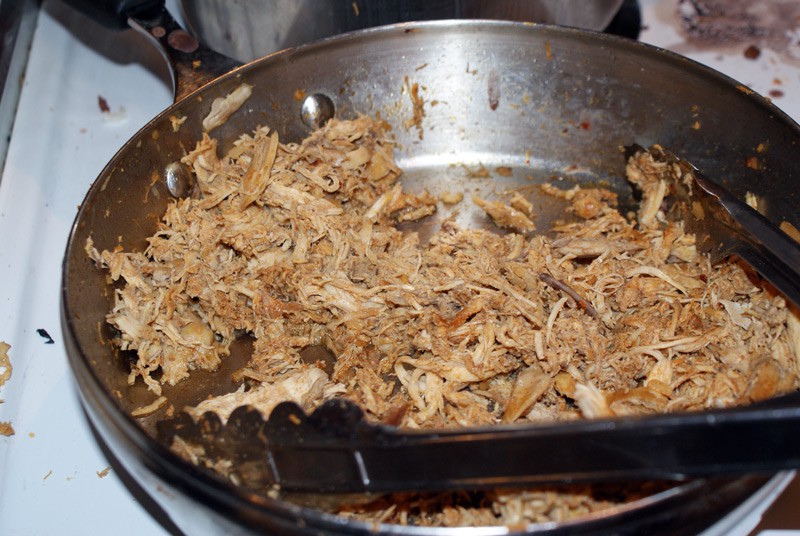 … shredded chicken with Homemade Taco Seasoning.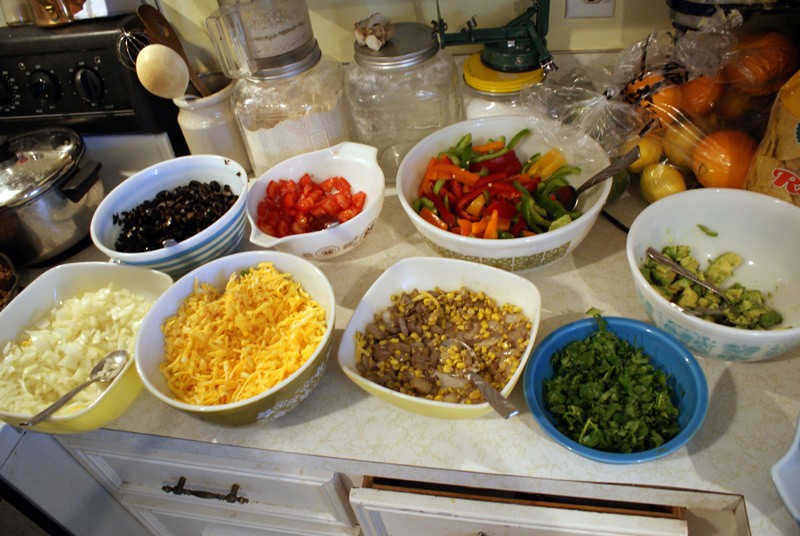 Toppings: onions, tomatoes, avocado, cheese, olives, peppers, lettuce, cilantro. And an interesting corn and onions mix that I sauteed, inspired by part of this 5 layer dip recipe. It also went on one of the 5 layer dips.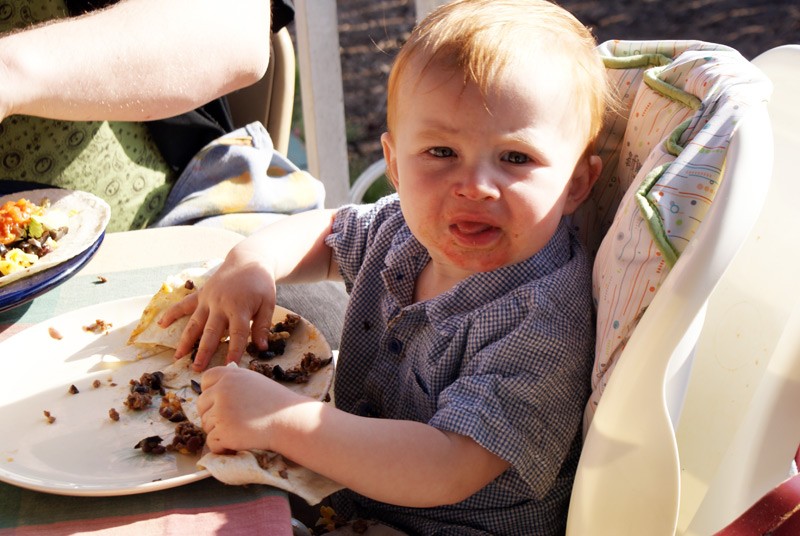 Mr. Man definitely enjoyed his taco!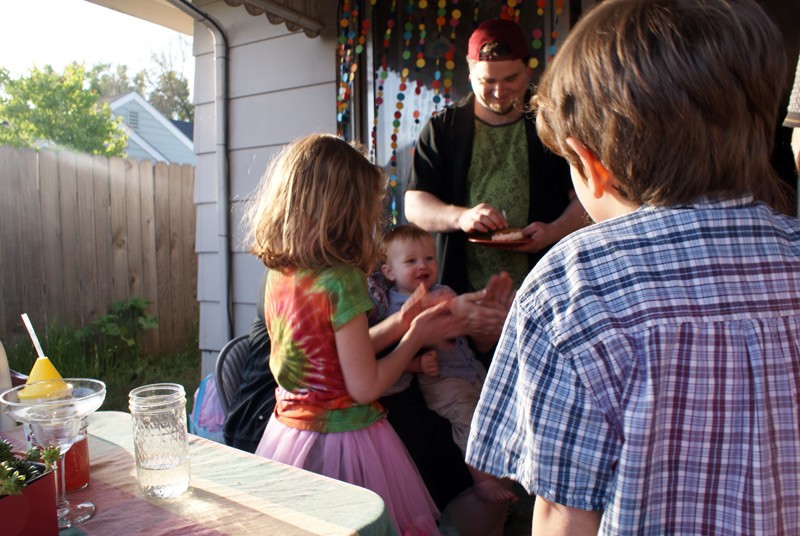 And instead of cake, we had ice cream sandwiches. He was going to get one all to himself, but in the midst of everything else, we forgot about it! LOL.
We ended the evening with a fire in our new firepit, is a big tractor tire that my brother salvaged for me.
So that was our day yesterday! How do you celebrate Cinco de Mayo? I hope my post has inspired your Cinco de Mayo party (or any party for that matter)!
Chrissy Leiberan-Titus writes for Muse of the Morning.com
Shared on: