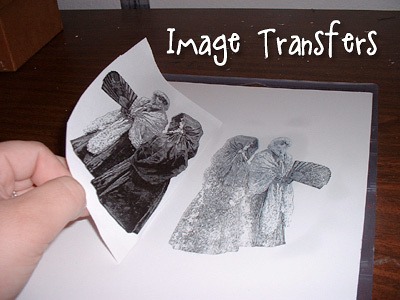 Image transfers are a really easy way to spice up an altered art project. They are really easy to do with easily obtained supplies!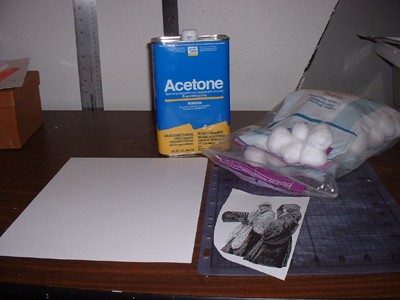 Supplies:
acetone
cotton balls
receiving paper
a photocopied image to transfer (this must be an image that has been photocopied, it cannot be printed from your computer, or taken from a magazine or a photo.)
a clean work surface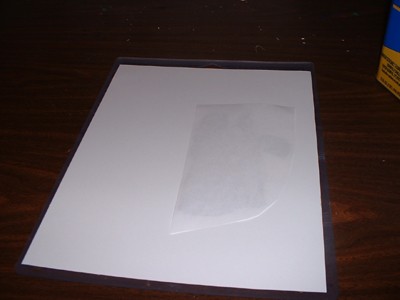 Lay the image face down on your receiving paper. Put a little acetone on your cotton ball*. Just enough that it is wet- not dripping.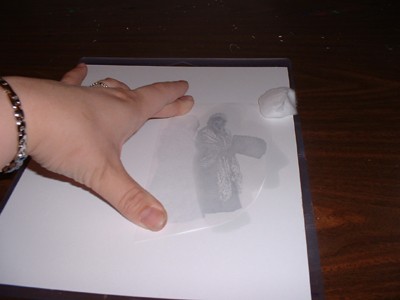 Hold the image firmly in place as you rub the cotton ball firmly over the back of the image.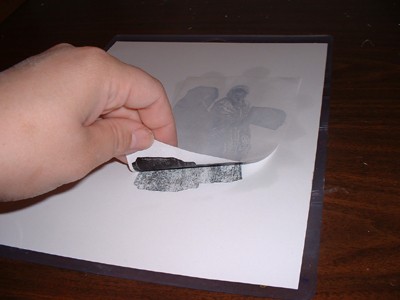 Gently lift the corner to see if the image transferred. If not, repeat the above process.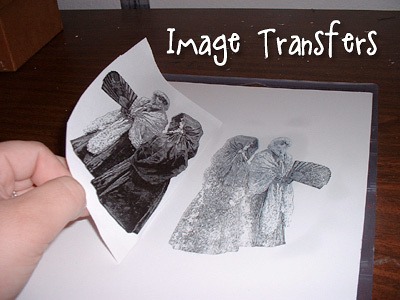 Gently lift off the transferred image to reveal your image transfer below!
---
Edited:
The response to this post has been overwhelming! Thank you all for viewing and commenting on this post. I hope the technique has worked for you. I wasn't getting notifications when a comment was posted, so I was really surprised when I took a look back and there they all are! I'm going to answer all the questions here that I know the answer to. If you don't see your question, its because I don't know the answer, not because I'm ignoring you. I really am excited to see so many comments!
That is so neat! Would it work to transfer images on to fabric?
This I don't know. I would think it would onto a woven, but I think with a knit, the fabric would stretch too much with the rubbing. You would also need to heat set it, which I know you can do with acrylic paints by tossing it into the dryer for 20 mins, but I don't know if copier ink would wash out or not. If you try it, let me know and I will update this with your results!
wow ,can i do it on glass or wood?!,thnx
I am fairly certain that it would work on wood, although I think it would be lighter. If it does work on glass, I think it might smear if you use too much acetone, and then after it were transferred, I don't think it would dry very well.
It works on fabric…
Well look at that! It does work! I'll have to give it a try. 🙂
will it work with any kid of photo? and what is recieving paper?
I didn't specify, but this only works with a copied image- like from a copy machine. It will not work with something you scan and print from your computer. It won't work from a photo. The receiving paper is the paper that receives the image.
Would this work with color prints, or only black ink?
I am not sure on the color prints, but it's only going to work on a photocopied image, not a printed from your printer image.
does it matter what kind of image it is such has magazine picture, newspaper, etc?
Wow. I really didn't answer this question well in my original post at all, did I? I'm sorry about that! This transfer will only work with a photocopied image, like one from a copier from Kinkos. It will not work with magazine pictures, images printed from your computer or photos. For those, you might try transfers with gel medium or packing tape. 🙂
Chrissy Leiberan-Titus writes for Muse of the Morning.com