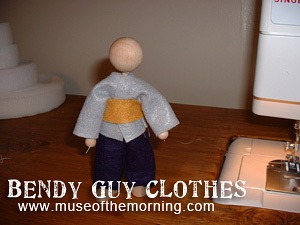 Download [ pants and top pattern (in pdf format) ]
All seams that are sewn in this tutorial are allowed 1/4 inch allowance.
Note: Bendy guy clothes aren't meant to be removed.

Step 1: Basic Pants
Cut 2 of the pattern piece from felt.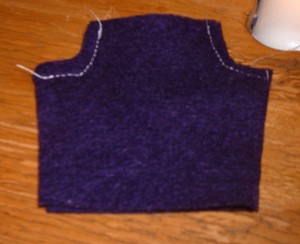 Step 2:
Sew both sides from waist to crotch.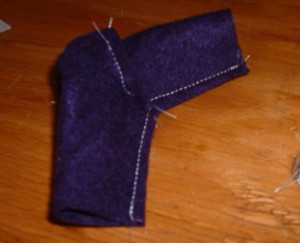 Step 3:
Fold to put leg sides together and sew from ankle to ankle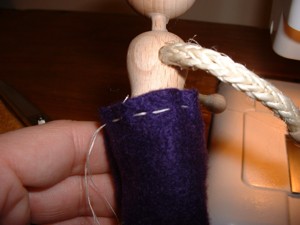 Step 4:
Turn right side out and put on bendy guy. This pattern will be tough to get over the feet of the wooden bendy guys, but will fit the leg better once its on. Sew a straight stitch around the bendy guy's waist. Pull to gather.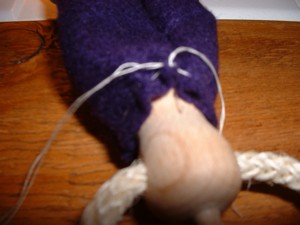 Step 5:
Tie off to keep from ungathering.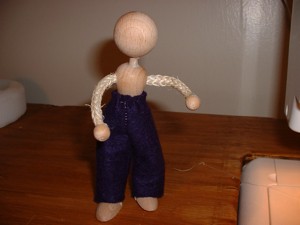 Voila! Pants!
And The Jacket:


Step 1: Basic Top/ Jacket
Cut on fold from two layers of felt.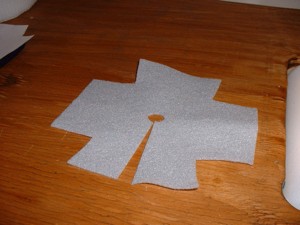 Step 2:
open up the top and cut up the back from waist to neck.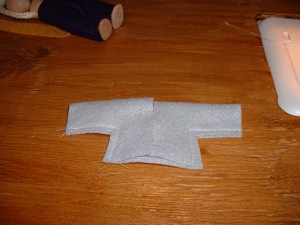 Step 3:
Fold the top back up and then sew from wrist to armpit and then to waist.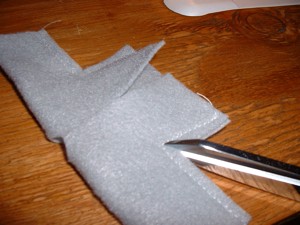 Step 4:
Clip armpit corner almost to seam.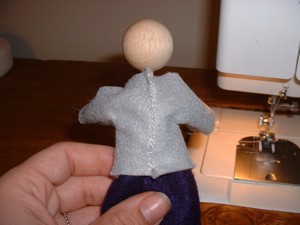 Step 5:
Pull onto bendy guy with cut open area at the back. Sew up the back with a blanket stitch.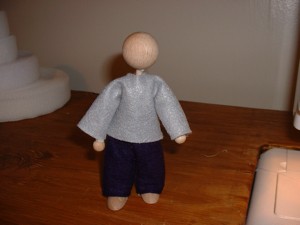 voila! bendy guy outfit!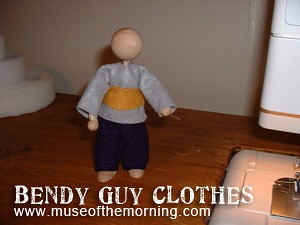 Add a sash and you have a sort of asian style outfit.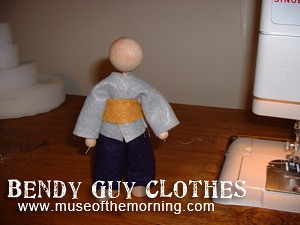 Other Ideas:
If you put the top on "backward" with the opening in the front, it makes a jacket.
After cutting out the pieces, embroider them with colorful threads.
These are basic pieces, shorten, lengthen, etc… to make them be more what you want!
Practice with craft felt, but I highly recommend using 100% wool felt for your final product, because it won't pill and will last a lot longer.
Chrissy Leiberan-Titus writes for Muse of the Morning.com