We went cabin camping this weekend. It was a lot of fun to be sure, although it rained a lot, keeping us inside much of the time.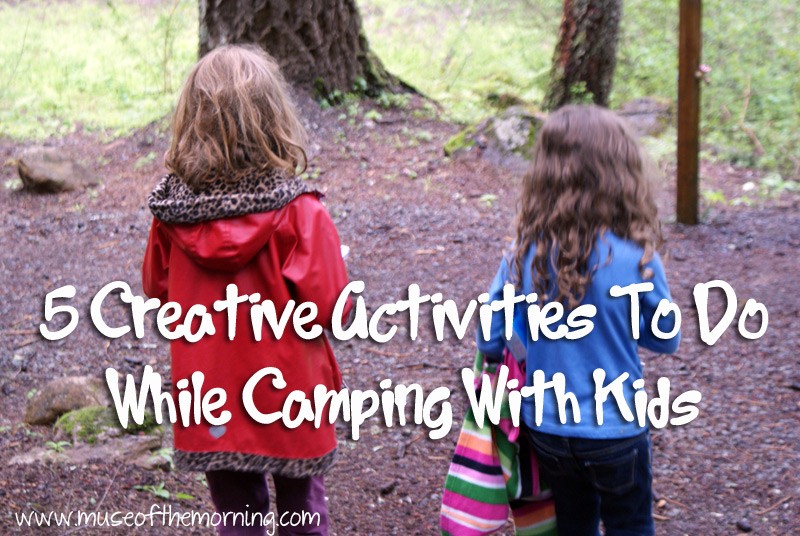 When the weather keeps you inside while camping, or after all the biking, hiking, swimming, canoeing and other camp activities are finished, kids might want some low key activities to keep them busy (not that there's anything wrong with some good old fashioned boredom to make them think of their own things to do also!). I like to have a few creative activities ready for them to do when they're ready. These are some of my favorite ideas that would be completely perfect for some summer camping fun!
What? Cooking?
Well sure! Kids love to create food- they're definitely more likely to give it a try if they make it- and if there's a mess involved, its easy to get them making foodstuffs!
Ok, this isn't *really* cooking, since there's no heat involved, but it's mixing stuff together to make a yummy (and healthy) treat for the kiddos. I found this recipe for Chocolate Chip-Almond Granola Bites from an Oregon Cottage and changed it up a little to be easy for each kiddo to make their very own batch and allow them to add what they want to it! It was especially nice because we were already taking most of this stuff, I just grabbed an extra handful of coconut and chocolate chips and a 1/4 cup measuring cup to take a long as well.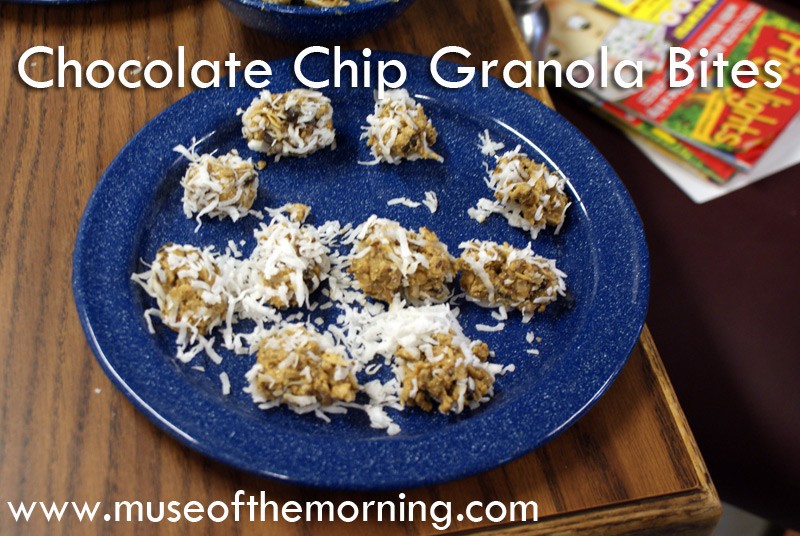 Here's my recipe- this makes about 8-10 balls, depending on how big the kids make them:
Ingredients:
* 1/4 cup peanut, almond or sunflower butter (we used sunflower butter)
* 1 tablespoon maple syrup or honey (we used maple syrup)
* 1/3 cup granola (we used The Very Best Granola Recipe Evar and I keep a 1/3cup measuring cup in there all the time)
* 1tablespoon of chocolate chips (we used an eating spoon for all the tablespoon stuff
* coconut for rolling the balls in
* Other optional ingredients- raisins, nuts, more coconut, sunflower seeds, dried cranberries, chopped dried apples?…. lots of possibilities!
Directions
In a small bowl, mix together the nut butter, maple syrup and granola. Allow the kiddo to add a scoop of chocolate chips and whatever other extra ingredients they want. If too many extras are added, you might want to add a little more nut butter.
Refrigerate for 1/2 hour- the recipe this is based on says that, but we didn't and it it wasn't an issue, except that the girls had messy hands after!
Spread a layer of the coconut out onto a plate. Make balls from the granola mixture and roll in the coconut to coat.
Eat! These are a great mid-afternoon protein boost! We were only camping for 3 days, so we just left them out and ate them throughout the weekend.
2. Go on a Scavenger Hunt!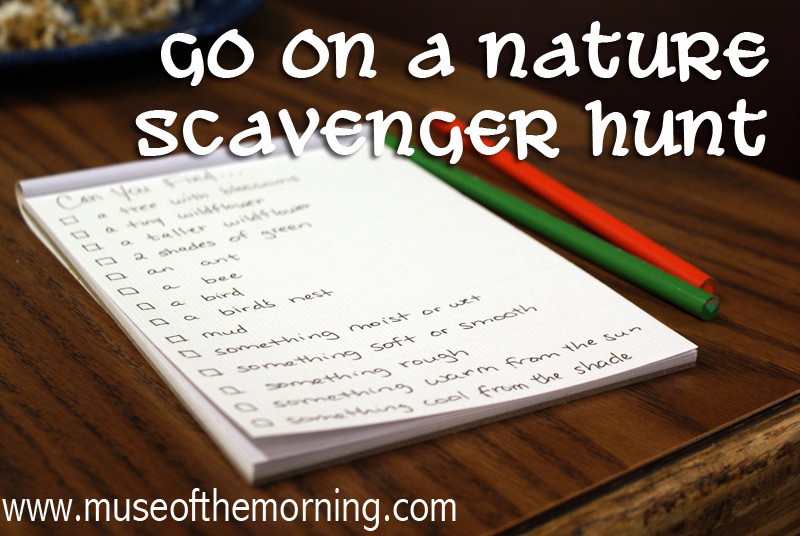 Go Explore Nature has a really awesome scavenger hunt checklist that you can download. Our printer was out of ink (Grr!) so I just wrote some of the things down on a pad of paper. The girls took off with their pads and some colored pencils with instructions to find the things on the list and draw at least 3 of them. A while later, they came back and said "Can we draw everything?" Of course!
A note on scavenger hunts though- if you make one, don't be surprised if the children then make a scavenger hunt for you to go on. Lil' Miss made one that was more like an Easter Egg hunt for me (as in she hid a bunch of things and I had to find them in the cabin), while her friend made a scavenger hunt with pictures that included many of the things that were on their original list.
3. Melted Crayon Rocks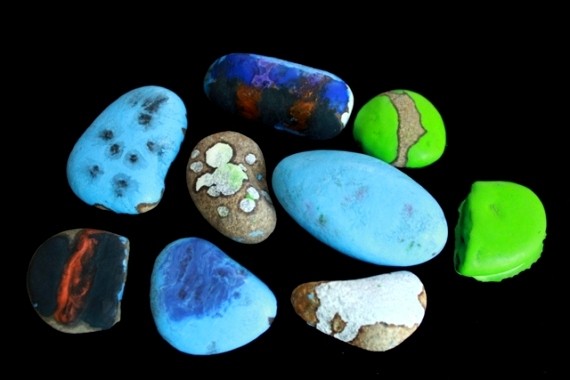 (image credit The Artful Parent)
This project from The Artful Parent lends itself perfectly to camping- there are a ton of rocks in most camping settings, simply send the kids out to hunt for some. Maybe give a size guideline, like a big as their thumb or as big as their fist. Wash the rocks in the stream or your washbasin and then put in the campfire to heat up! Use long metal tongs to retrieve the stones and then use old crayons to melt beautiful designs on the rocks. What a lovely lovely project!
4. Painting en plein air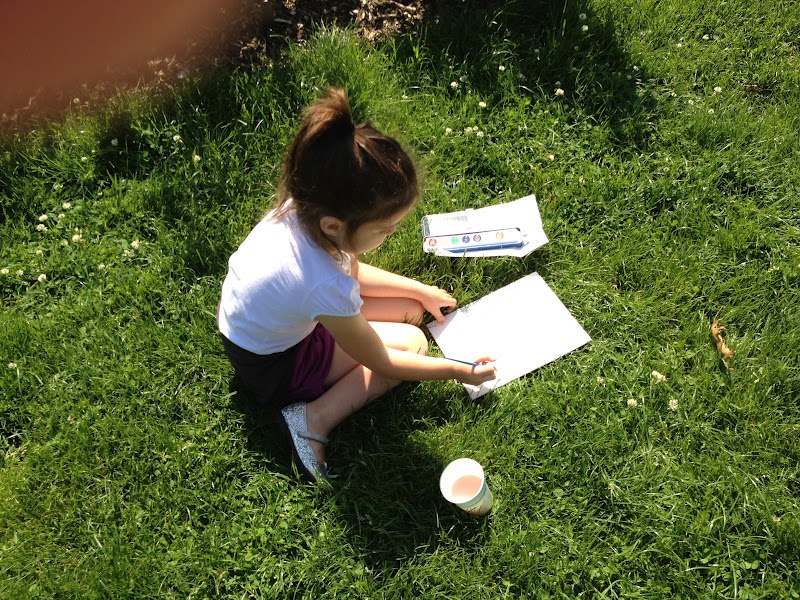 (image credit Mrs. Goff's Pre-K Tales)
All you need is some watercolor paper, a small watercolor set and a cup of water for rinsing the brush to paint en plein air. Head outside and look around nature for something to paint. If you have a board for painting on, that's awesome, if not, a picnic table or even the ground will work just fine!
In a pinch, you can draw en plein air as well, bring along colored pencils or crayons with your paper.
5. Build Fairy Houses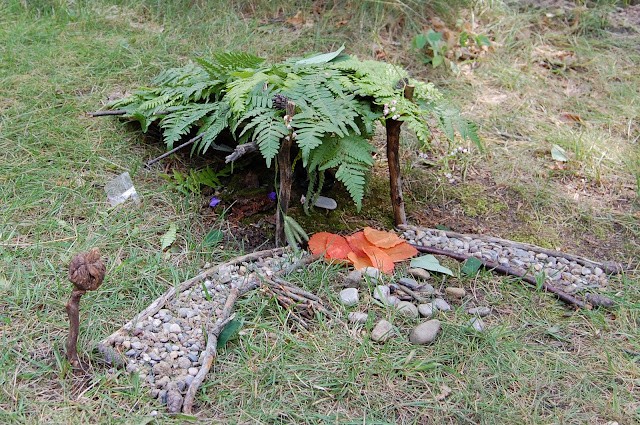 (image credit Cultivating Wonder)
I love this post from Cultivating Wonder on building Fairy Houses. Building fairy houses really makes the kids take a look at their natural surroundings to see what could they use to build a nice home for a tiny being.
Children can get so creative in their building a fairy home and imaginative in figuring out uses for pinecones and acorn caps and flower petals. I recommend taking a photo of the piece when it's finished though- leaving behind one's artwork can be a very hard experience, especially for younger kids.
So what are your ideas for cultivating creativity while out camping? Share your tips and ideas in the comments! What are you likely to try from this list?
Chrissy Leiberan-Titus writes for Muse of the Morning.com
Linked To: